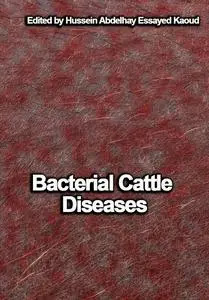 "Bacterial Cattle Diseases" ed. by Hussein Abdelhay Essayed Kaoud
ITExLi | 2019 | ISBN: 183881230X 9781838812300 1838812296 9781838812294 1838812318 9781838812317 | 75 pages | PDF | 6 MB
This book discusses important bacterial diseases and suggestive prevention strategies based on progress in this field. The book will be useful to researchers and students of veterinary sciences as well as those who are interested in cattle production.
The book includes four sections and five chapters that provide the most common diseases and an overview of the essential methods for their prevention and control.
The book is the result of collaborating parties.
Contents
1.Introductory Chapter: Bacterial Cattle Diseases - Economic Impact and Their Control
2.Bovine Respiratory Disease in Feedlot Cattle: Antimicrobial Resistance in Bovine Respiratory Bacterial Pathogens and Alternative Antimicrobial Approaches
3.One Health Approach to Control Brucellosis in Sierra Leone
4.Leptospirosis: Rising Nuisance for Cattle and Threat to Public Health
5.Diseases Caused by Bacteria in Cattle: Tuberculosis
1st true PDF with TOC BookMarkLinks