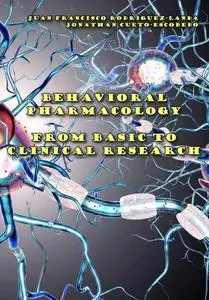 "Behavioral Pharmacology: From Basic to Clinical Research" ed. by Juan Francisco Rodríguez-Landa, Jonathan Cueto-Escobedo
ITExLi | 2020 | ISBN: 1789856809 9781789856804 1789856795 9781789856798 1838805745 9781838805746 | 152 pages | PDF | 7 MB
The purpose of this book is to show some of the advances in the identification of pharmacological properties of natural and synthetic molecules that may be used in the development of pharmacological therapies destined for the treatment of illness and disorders that affect the wellness of humans.
Behavioral pharmacology studies the biological bases of behavior and the pharmacological effects of natural or synthetic drugs through behavioral analysis, with the identification of substances that could contribute to improvement of the quality of life for humans. Through behavioral pharmacology, it is possible to generate knowledge about pharmacological bases that influence the normal or altered behavior from a multidisciplinary point of view, and which includes diverse areas of science.
Contents
1. Introductory Chapter: Behavioral Pharmacology - From Basic to Clinical Research
2. New Developments in Behavioral Pharmacology
3. Berry Supplementation and Their Beneficial Effects on Some Central Nervous System Disorders
4. Pharmaceutical and Botanical Management of Pain Associated with Psychopathology: A Narrative Review
5. Neuropharmacology of Secondary Metabolites from Plants with Anxiolytic and Antidepressant Properties
6. Neuropharmacology of Anxiety Disorders at Young Age: A Perspective from Preclinical Research
7. Comprehensive Attention with a Harm Reduction Perspective for Psychoactive Substances Consumers in a Third Level Hospital
1st true PDF with TOC BookMarkLinks