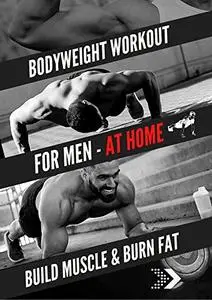 Bodyweight Workout Plan: For Men - Perfect At Home - Get MUSCLE & Burn Fat + 3 Golden Rules of Bodybuilding by Bodyweight Workout
English | 2020 | ISBN: N/A | ASIN: B086DSNQMD | 80 pages | EPUB | 0.95 Mb
◆ In order to build up muscle at home quickly and without taking up body fat, you need to take care of two key elements which, if used regularly, will give the expected results.
Your success in muscle growth and size depends on providing enough energy in the form of food and exercises with weights
① If you want to have bigger and visible muscles, you can't do it without training. A good choice for weight training is Full Body Workout (FBW), which is one of the healthiest and most effective strength training methods.
The set of exercises in FBW involves all parts of your muscles to help you burn body fat and gain muscle. All you need to do this workout is your body weight, dumbbells or full water bottles. Perfect at home.
★ Everything is explained step by step.
② To build muscle and their size, you should to eat more than it's your daily calories needs, (eating more is usually not enough). It is worth to approach it like a professional bodybuilder or athlete, so the results will also be better. A well-chosen excess of calories will cause the muscles to grow and fat will not be stored in the body.
For simplicity, in the e-book I have placed a BMR calculator that will allow you to calculate your daily calorie requirement.
When it comes to diet and macros, if your goal is to build muscle, bet on higher levels of carbohydrates. Let them consist more than 50% of your daily calories. Keep the protein level at 1.3 / 1.8 g per kilogram of your body weight.
◆ In the e-book you will find the most important nutrition tips that you can easily implement
Your Muscle need to have an impulse to grow. The easiest way to get it is through strength training with a weight of 70/85%.
Getting muscle at home is definitely more difficult than at the gym, but it is possible.
To perform effective strength training at home, you need body weight, dumbbells and/or water bottles.
♥ This workout plan is perfect for the intermediate. But, regardless of your training experience, you can use this training even if you are advanced or beginner.
The e-book includes three golden rules of muscle building that you can implement immediately.
★ In conclusion, this e-book is for you if your goal is;
✓ Burn Body Fat
✓ Gain Strenght & Size
✓ Build muscle
✓ Tone up body
✓ Stay healthy
✓ Get Six-Pack ABS
Feel Free to contact me for book requests, informations or feedbacks.
Without You And Your Support We Can't Continue
Thanks For Buying Premium From My Links For Support