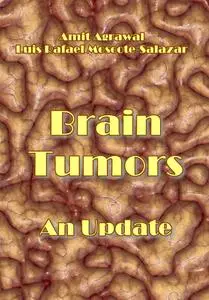 "Brain Tumors. An Update" ed. by Amit Agrawal, Luis Rafael Moscote-Salazar
ITExLi | 2018 | ISBN: 178923557X 9781789235579 1789235561 9781789235562 1838815090 9781838815097 | 231 pages | PDF | 32 MB
Through this book, the authors share their experiences and provide details about the pathophysiology, neuroimaging approaches, and management options, and how to go about decision-making in patients with brain tumors. The valuable contributions from the authors shall facilitate understanding about brain tumors.
We all know that the field of neuro-oncology is heterogeneous and under continuous development with the addition of new knowledge and information on a regular basis. This book is an attempt to share the personal experiences of experts who are involved in neuro-oncology-related research.
Contents
1. Current Trends in Glioblastoma Treatment
2. Diffuse Intrinsic Pontine Glioma
3. Trigeminal Schwannomas
4. Vestibular Schwannoma: Microsurgery or Radiosurgery
5. Primary Brain Tumors in Childhood
6. Medulloblastoma
7. Neuropsychiatry: Aspects of Childhood Cranial Tumours
8. Modern Management of Craniopharyngioma
9. Stem Cell Research for the Treatment of Malignant Glioma
10. Role of an Alternatively Spliced KCNMA1 Variant in Glioma Growth
1st true PDF with TOC BookMarkLinks
More :
You find here