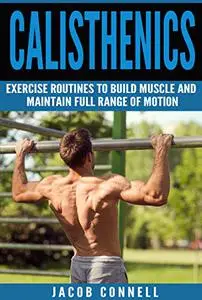 Calisthenics: Exercise Routines To Build Muscle And Maintain Full Range Of Motion (Fitness, Body Building, Leaner Body, Bodyweight Exersises) by Jacob Connell
English | 2017 | ISBN: N/A | ASIN: B075CST3GD | EPUB | 0.56 Mb
Do you want to increase your muscle mass?
Do you want to shape your body without lifting too many weights or spending too many hours in the gym?
If yes, you should definitely consider trying calisthenics.
Calisthenics are repetitive exercises that you do using your body's own resistance to build more strength, burn extra fat and increase your flexibility.
With calisthenics, you do not need any weights or equipment; hence, you can do the exercises anywhere and at any time. All you need is sufficient space to move around.
In order to get started with calisthenics, it is important to know everything there is about calisthenics and this is where this book comes in.
Designed as a complete Calisthenics guide, you will learn some basic calisthenics as well as advanced ones to improve your strength and stamina.
You will also learn some warm up and cool down exercises that you need to do to be able to do the various workouts.
Whats Inside?
Calisthenics 101
What Should You Eat?
Preparing For Calisthenics
Basic Calisthenics For Beginners
Advanced Calisthenics
Learn the exercise routines to build muscle and maintain full range of motion.
Get this book today!
Feel Free to contact me for book requests, informations or feedbacks.
Without You And Your Support We Can't Continue
Thanks For Buying Premium From My Links For Support