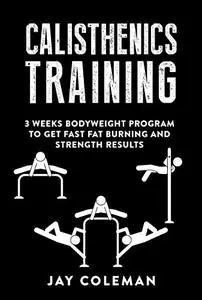 Calisthenics Training: 3 weeks Bodyweight Program to get Fast Fat Burning and Strength results by Jay Coleman
English | 2020 | ISBN: N/A | ASIN: B084RDBHZ2 | 90 pages | EPUB | 0.12 Mb
Do you want to slim down, improve strength, speed, and agility to become a better athlete, a healthier person, and a better performer?
If yes, keep reading…
Have you been desiring to improve your performance as an athlete or in your day-to-day, physically demanding life activities, but your excess body fat and poor fitness keeps pulling you behind?
Are you sick and tired of your constant failure in achieving your fitness goals, performance targets in your sport, the strength and agility you've always targeted, or the body physique and size you've always desired?
Have you tried endless methods to attain your goal, but nothing seems to work for more than a few weeks?
Do you finally want to say goodbye to settling for less, accepting mediocrity, and being comfortable at your current level and discover something which works for you?
If so, then you've come to the right place.
You see, losing weight, becoming as strong as you want and hitting your highest athletic performance targets doesn't have to be difficult- even if you've already tried everything you can think of and failed.
In fact, it's easier than you think.
A report published in shape.com demonstrates that calisthenics is a superior training method than weight training when it comes to improving adaptability, strength, and performance.
Another report in the School of Calisthenics asserts that calisthenics is the greatest form of exercise whether the goal is aesthetic-based or performance-based.
That simply means that you can achieve your target fitness levels, strength goals, body goals, and performance goals without having to endure the painful experience of heavyweight training or other extreme forms of exercise.
But how do you go about it?
What does calisthenics entail that makes it so effective?
What calisthenic workouts do you need to perform to target different muscle groups?
What mistakes do you need to watch out for?
And how do you enhance the effectiveness of your workouts?
If you have these and other related questions about calisthenics, this book is for you so keep reading!
More precisely, the book will teach you:
The basics of calisthenics training, including what it is, what it entails, how it works and more
What makes calisthenics a cut above many other workouts
How to slim down, improve your strength, agility, muscle mass, and health with calisthenics
Complete workout programs for beginners and advanced professionals with important instructions and advice
How to workout different muscle groups with calisthenics to achieve different goals
Bodyweight workout routines that you can do anywhere and any time to make you a complete and autonomous athlete
An innovative 3-week weight loss training plan for quick fat-burning and strength results with minimal effort and frustration
How to progress from beginner to intermediate and expert level with calisthenics
…and much, much more!
Feel Free to contact me for book requests, informations or feedbacks.
Without You And Your Support We Can't Continue
Thanks For Buying Premium From My Links For Support