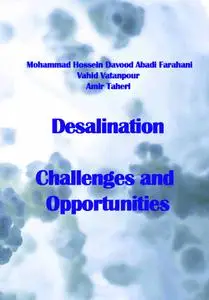 "Desalination: Challenges and Opportunities" ed. by Mohammad Hossein Davood Abadi Farahani, Vahid Vatanpour, Amir Taheri
ITExLi | 2020 | ISBN: 1789847397 9781789847390 1789847389 9781789847383 1839627034 9781839627033 | 114 pages | PDF | 10 MB
This book aims to cover the challenges and opportunities in desalination processes.
Undoubtedly, drinking water of an acceptable quality has become a scarce commodity. Water shortage is becoming a major concern all around the world due to limited freshwater resources as well as the high cost of freshwater transportation from freshwater-rich areas to arid areas. As a result, solutions such as water recycling and desalination of saline or brackish water are being introduced and emerging worldwide as alternative ways of supplying water. Desalination of seawater is known to be one of mankind's earliest forms of water treatment, and it has become one of the most sustainable alternative solutions to provide freshwater for many communities and industrial sectors.
Contents
1.An Overview on the Treatment and Management of the Desalination Brine Solution
2.Water Treatment and Desalination
3.Water Demand and Salinity
4.World's Demand for Food and Water: The Consequences of Climate Change
5.A Novel Low-Temperature Thermal Desalination Technology Using Direct-Contact Spray Method
6.Aqueous Silica and Silica Polymerisation
1st true PDF with TOC BookMarkLinks