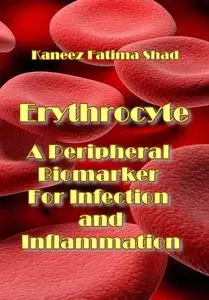 "Erythrocyte: A Peripheral Biomarker For Infection and Inflammation" ed. by Kaneez Fatima Shad
ITexLi | 2021 | ISBN: 1839691212 9781839691218 1839691204 9781839691201 1839691220 9781839691225 | 99 pages | PDF | 6 MB
This book examines the role of RBCs in immunology. Chapters cover such topics as an iron deficiency in erythrocytes, the modulation of oxidative stress (OS) in erythrocytes in bacterial and viral infections, using human foetal astrocytes (HFAs) as an experimental model to measure early predictive biomarkers for hypertension, and more.
In addition to carrying haemoglobin for gas exchange, red blood cells (RBCs) or erythrocytes contain a number of lipids, proteins, and carbohydrates, making them capable of acting as peripheral biomarkers for many pathological conditions. Early identification of key changes in erythrocytes in response to inflammatory or infectious diseases saves millions of lives worldwide.
Contents
1. Erythrocytes as Biomarkers of Virus and Bacteria in View of Metal Ion Homeostasis
2. Modulations in Oxidative Stress of Erythrocytes during Bacterial and Viral Infections
3. Early Predictive Biomarkers for Hypertension Using Human Fetal Astrocytes
4. Detection of Benzo[a]Pyrene Diol Epoxide-DNA Adducts in White Blood Cells of Asphalt Plant Workers in Syria
5. The Study of Some Possible Risk Factors for Arterial Thrombosis in the Example of Georgian Patients
1st true PDF with TOC BookMarkLinks
More :
You find here