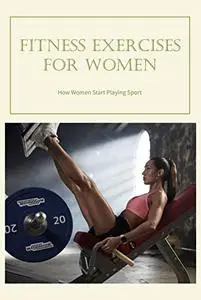 Fitness Exercises for Women: How Women Start Playing Sport: Sport And Fitness For Women by Charlemagne Louischarles
English | 2022 | ISBN: N/A | ASIN: B0B3WT2HDX | 63 pages | EPUB | 5.19 Mb
Did you know that playing sport keeps your brain sharp and your self-
esteem high? Health writer Amy Bonifas explores the latest science
behind why sport is so good for us – and which sports have the biggest health benefits.
The past few weeks have been a dream for sport fanatics – from the
hype around the FIFA Women's World Cup, to epic tennis at Wimbledon, and a nail biting cricket final that saw England take home
the trophy. The Vitality Netball World Cup lit up Liverpool this July
and our very own Vitality Roses did us proud by taking the bronze
medal in a closely-contested play-off with South Africa. But the benefits of sport go much further than the fun you have watching it on telly. Playing sport keeps us healthy, and getting stuck into a game gives us a powerful combination of physical and mental health benefits. Playing football, for instance, can not only reduce
our risk of cardiovascular disease by up to 50% but also boost our
mental wellbeing.
This book will help yo do that.
Feel Free to contact me for book requests, informations or feedbacks.
Without You And Your Support We Can't Continue
Thanks For Buying Premium From My Links For Support