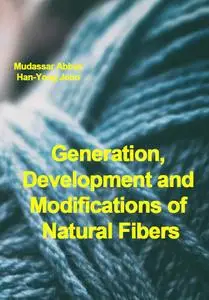 "Generation, Development and Modifications of Natural Fibers" ed. by Mudassar Abbas, Han-Yong Jeon
ITExLi | 2020 | ISBN: 1789846730 9781789846737 1789846722 9781789846720 1789856884 9781789856880 | 117 pages | PDF | 16 MB
This book covers natural fibers at the basic level as well as a few advanced approaches for recent trends in natural fibers. The book provides comprehensive knowledge of natural fibers.
The core chapters include an introduction to cellulosic fibers like cotton, protein fibers like silk, and other natural fibers.
Contents
1.Development, Characterization and Properties of Silk Fibre and Grafted Silk Fibre Reinforced Polymer Composite Films
2.Natural Fibers: Applications
3.Surface Modification of Bast-Based Natural Fibers through Environment Friendly Methods
4.Use of Recycled Cellulose Fibers to Obtain Sustainable Products for Bioeconomy Applications
5.Characteristics of Eco-friendly Kenaf Fiber-Imbedded Nonwoven for Automotive Application
6.3D Nonwoven Fabrics for Biomedical Applications
1st true PDF with TOC BookMarkLinks