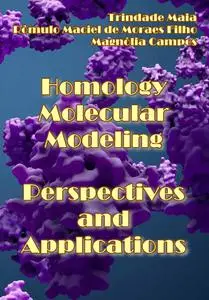 "Homology Molecular Modeling: Perspectives and Applications" ed. by Rafael Trindade Maia, Rômulo Maciel de Moraes Filho, Magnólia Campos
ITexLi | 2021 | ISBN: 1839628065 9781839628061 1839628057 9781839628054 1839628111 9781839628115 | 123 pages | PDF | 8 MB
This book brings together unpublished chapters on this technique. In this book chapters are intimately related to the theme of molecular modeling, carefully selected and edited for academic and scientific readers. It is an indispensable read for anyone interested in the areas of bioinformatics and computational biology.
Homology modeling is an extremely useful and versatile technique that is gaining more and more space and demand in research in computational and theoretical biology. The reader will have a didactic and comprehensive view of the theme, with updated and relevant concepts on the subject. This book was organized from researchers to researchers with the aim of spreading the fascinating area of molecular modeling by homology.
Contents
1. Introductory Chapter: Homology Modeling
2. Normal Mode Analysis: A Tool for Better Understanding Protein Flexibility and Dynamics with Application to Homology Models
3. Role of Force Fields in Protein Function Prediction
4. Importance of Homology Modeling for Predicting the Structures of GPCRs
5. Homology Modeling of Tubulin Isotypes to Investigate MT-Tau Interactions
6. Design of Bioelectrochemical Interfaces Assisted by Molecular Dynamics Simulations
7. Energy Minimization
1st true PDF with TOC BookMarkLinks
More :
You find here