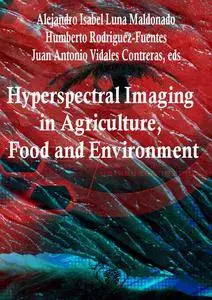 "Hyperspectral Imaging in Agriculture, Food and Environment" ed. by Alejandro Isabel Luna Maldonado, Humberto Rodriguez-Fuentes, Juan Antonio Vidales Contreras
ITExLi | 2018 | ISBN: 1789232910 9781789232912 1789232902 9781789232905 | 165 pages | PDF | 21 MB
This book is about the novel aspects and future trends of the hyperspectral imaging in agriculture, food, and environment. This book is a general reference work for students, professional engineers, and readers with interest in the subject.
The topics covered by this book are hyperspectral imaging and their applications in the nondestructive quality assessment of fruits and vegetables, hyperspectral imaging for assessing quality and safety of meat, multimode hyperspectral imaging for food quality and safety, models fitting to pattern recognition in hyperspectral images, sequential classification of hyperspectral images, graph construction for hyperspectral data unmixing, target visualization method to process hyperspectral image, and soil contamination mapping with hyperspectral imagery.
Contents
1 Introductory Chapter: Trends on Hyperspectral Imaging Development
2 Multimode Hyperspectral Imaging for Food Quality and Safety
3 Hyperspectral Imaging and Their Applications in the Nondestructive Quality Assessment of Fruits and Vegetables
4 Hyperspectral Imaging for Assessing Quality and Safety of Meat
5 Models Fitting to Pattern Recognition in Hyperspectral Images
6 Sequential Classification of Hyperspectral Images
7 Soil Contamination Mapping with Hyperspectral Imagery: Pre-Dnieper Chemical Plant (Ukraine) Case Study
8 Using the Target-Visualization Method to Process Hyperspectral Images
9 Graph Construction for Hyperspectral Data Unmixing
1st true PDF with TOC BookMarkLinks