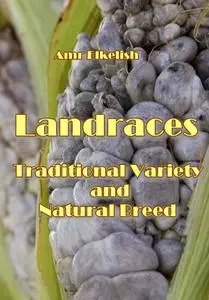 "Landraces: Traditional Variety and Natural Breed" ed. by Amr Elkelish
ITexLi | 2021 | ISBN: 1839687185 9781839687181 1839687177 9781839687174 1839687193 9781839687198 | 224 pages | PDF | 7 MB
This volume is a handbook of conservation and genetic diversity in plants and animals. It is a useful resource for students studying conservation biology and individuals working in the fields of breeding and ecology.
The book consists chapters covering topics such as nutritional and phytochemical content of crop landraces, vegetable landraces as valuable sources of genes for traditional farmers and future breeding processes, wild relatives/landraces of maize, and more.
Contents
1. On-Farm Crop Diversity for Advancing Food Security and Nutrition
2. Wild Progenitor and Landraces Led Genetic Gain in the Modern-Day Maize (Zea mays L.)
3. Genetic Diversity of Coffea arabica L.: A Genomic Approach
4. Vegetable Landraces: The "Gene Banks" for Traditional Farmers and Future Breeding Programs
5. Genomic Tools to Accelerate Improvement in Okra (Abelmoschus esculentus)
6. Nutritional Value and Phytochemical Content of Crop Landraces and Traditional Varieties
7. Interactive Effect of Organic and Inorganic Amendments along with Plant Growth Promoting Rhizobacteria on Ameliorating Salinity Stress in Maize
8. Utilization and Conservation of Landrace Chickens of Nigeria: Physical and Performance Characteristics, Issues and Concerns
9. The Reproductive Performance of Native Osmanabadi Goat of India
10. Reality of Mitogenome Investigation in Preservation of Native Domestic Sheep Breeds
11. Domestic Pig Germplasms of Andaman and Nicobar Islands
1st true PDF with TOC BookMarkLinks
More :
You find here