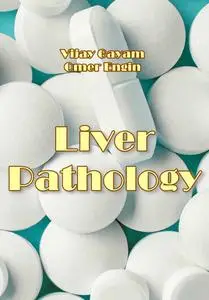 "Liver Pathology" ed. by Vijay Gayam, Omer Engin
ITexLi | 2021 | ISBN: 1838802444 9781838802448 1838802436 9781838802431 1839695536 9781839695537 | 272 pages | PDF | 22 MB
This book has been prepared for all physicians. The distinguished authors in the book wrote their chapters by combining their scientific knowledge with their experiences.
The liver is one of the organs that receives blood mostly from the systemic circulation. The liver is an important organ in which most metabolic events develop. The detoxification of toxins is also amongst the liver functions. In some cases, liver pathologies can be easily treated, and in some cases, it can lead to the end of life. Liver tumors, bacterial and viral infections, cirrhosis, and Wilson's disease are among the most common liver diseases. Liver cancers can be primary or secondary due to metastases from other organs. Patients with secondary liver tumors can even be diagnosed without a primary tumor diagnosis. Early diagnosis of liver diseases can increase treatment success. Physicians may encounter liver diseases throughout their professional life.
Contents
1. Diagnosis and Treatment of Hepatoblastoma: An Update
2. Early Postoperative Monitoring of the Liver Graft
3. Stroke and Liver Cirrhosis: A Brief Review of Current Evidence
4. Cardiac Hepatopathy
5. Hepatocellular Carcinoma: A Pharmacological Aspect
6. Acute on Chronic Liver Failure: Role of the Bacterial Infections
7. Left Side Gallbladder: Clinical and Anatomical Implication
8. Stereotactic Image-Guidance for Ablation of Malignant Liver Tumors
9. Hepatitis E: Disease in Humans
10. Microbiota, Inflammation, and Gut Barrier Dysfunction in HCC
11. Splenectomy in Liver Cirrhosis with Splenomegaly and Hypersplenism
12. Histopathology of Wilson Disease
13. Towards the Study of Liver Failure: Protocol for a 90% Extended Hepatectomy in Mice
14. Liver Assist Devices for Liver Failure
1st true PDF with TOC BookMarkLinks
More :
You find here