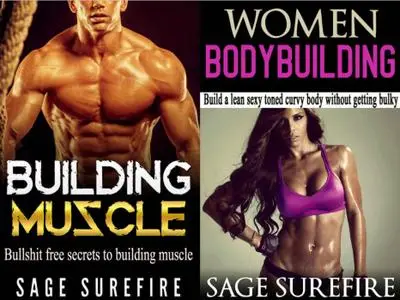 Muscle Fitness: Building Muscle And Women Bodybuilding Bundle – Muscle And Fitness by Sage Surefire
English | 2015 | ISBN: N/A | ASIN: B011CN9F8Q | 133 pages | EPUB | 0.17 Mb
What Will You Accomplish With The Truth In Your Hands?
Are you tired of looking and feeling weak?
Do you wish you could discover what it feels like to walk down the beach with total confidence in nothing but a pair of shorts, knowing that guys are envying your muscle mass and girls are trying not to make it obvious that they wish their man had what you've got?
This is the book that will take you from wishing to achieving. We've cut through all the confusion about getting huge and distilled it down to a common sense, no nonsense approach to packing solid muscle mass onto your frame that actually works – so long as you do.
The information that you read here will enable you to add 10-30 lb of solid muscle over the next 12 months. In the process, you'll at least be doubling your strength. In return for those results, you need to bring the following to the table . . .
oDiscipline
oGuts
oConsistency
Those three qualities are the hall-marks of more than a successful bodybuilder; they are the mark of any successful person in any field. Building muscle will allow you to hone them, so that you'll be able to find extraordinary success in anything you turn your mind to.
The Stuff You'll Find In This No Bullshit Guide
The mindset for building muscle
Mindset before the workout
Mindset during the workout
Eating to get huge
Finding your maintenance calorie level
Macro nutrient breakdown
The 50% Carbs / 30% Protein / 20% Fats principle
Nutrition guidelines summary
Training for real muscle mass
Your 12 month training plan
Phase One: Foundational mass training
Optimized exercise technique for the squats, dead-lifts, pull ups, bench press, and military press
The phase one workout for foundational mass training
Phase Two: Peripheral heart action training
How PHA works
The PHA Rep Scheme
The phase two workout for peripheral heart action
The exercises in PHA training
Putting it all together
What are you going to do with that knowledge?
I've been in the gym business for 33 years, as a gym owner, personal trainer and a bodybuilding coach. During that time, I've seen some interesting things in relation to women and their bodies. In the '80s Jazzercise was all the rage. The '90's saw the advent of Tae-bo. Then with the '00's came Cross-Fit, as women slowly cottoned on to the benefits of weight training.
During those three decades, I've helped hundreds of women totally transform their bodies from frumpy to fantastic, turning couch potatoes into bodybuilding champions. By utilizing bodybuilding training strategies, these ladies have moved beyond the myths associated with women and weights to unleash dramatic physical changes all over their bodies. In this book, I will reveal the exact same techniques, diet and training that have created these hard bodies. By following this guide you will be able to revolutionize your body and your training.
Choosing to follow the bodybuilding lifestyle will make you a stronger, fitter, sexier person. But it will also instill within you vital qualities that will help you to achieve success in all areas of life…
Feel Free to contact me for book requests, informations or feedbacks.
Without You And Your Support We Can't Continue
Thanks For Buying Premium From My Links For Support