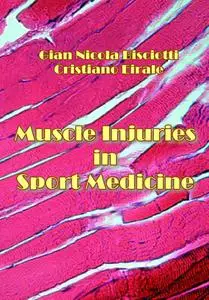 "Muscle Injuries in Sport Medicine" ed. by Gian Nicola Bisciotti and Cristiano Eirale
ITexLi | 2013 | ISBN: 9535111981 9789535111986 9535171801 9789535171805 | 331 pages | PDF | 31 MB
The purpose of this book is to review the state of the art of the actual knowledge on muscle tears in athletes, in particular for what concern the biology of muscle healing, the conservative and surgical treatments and the preventive aspects. This textbook can be a valid tool for all Sport Medicine practitioners such as physicians, physiotherapists and fitness coaches.
Muscle tears are one of the most common pathologies in sport and one of the most frequent causes of sport activity suspension.
Contents
Preface
Section 1 General Aspect
Chapter 1 Etiology, Biology and Treatment of Muscular Lesions
Chapter 2 Nutritional Interventions as Potential Strategy to Minimize Exercise-Induced Muscle Injuries in Sports
Section 2 Imaging and Clinical Evaluation
Chapter 3 Diagnostic Imaging in Muscle Injury
Chapter 4 Overview of Different Location of Muscle Strain
Section 3 Treatment
Chapter 5 Medical Treatment of Muscle Lesion
Chapter 6 Conservative Treatment of Muscle Injuries: From Scientific Evidence to Clinical Practice
Chapter 7 The Treatment of Muscle Hematomas
Chapter 8 Surgical Treatment
Section 4 Prevention
Chapter 9 How and When to Use an Injury Prevention Intervention in Soccer
Chapter 10 Prevention of Muscle Injuries — The Soccer Model
Chapter 11 Muscle Injuries in Professional Soccer Players During the Month of Ramadan
with TOC BookMarkLinks