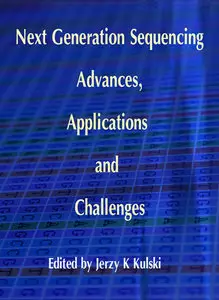 "Next Generation Sequencing: Advances, Applications and Challenges" ed. by Jerzy K Kulski
InTAvE | 2016 | ISBN: 9535122401 9789535122401 | 449 pages | PDF | 23 MB
This book written by experts covers various aspects of Next generation sequencing (NGS) including genomics, transcriptomics and methylomics, the sequencing platforms, and the bioinformatics challenges in processing and analysing huge amounts of sequencing data. The book is of value to all who are interested in DNA sequencing and bioinformatics across all fields of the life sciences.
Next generation sequencing (NGS) has surpassed the traditional Sanger sequencing method to become the main choice for large-scale, genome-wide sequencing studies with ultra-high-throughput production and a huge reduction in costs. The NGS technologies have had enormous impact on the studies of structural and functional genomics in all the life sciences.
Following an overview of the evolution of NGS in the brave new world of omics, the book examines the advances and challenges of NGS applications in basic and applied research on microorganisms, agricultural plants and humans.
Contents
Preface
1 Next-Generation Sequencing — An Overview of the History, Tools, and "Omic" Applications
2 Next Generation Sequencing in Aquatic Models
3 MHC Genotyping in Human and Nonhuman Species by PCRbased Next-Generation Sequencing
4 Transcriptomic Profiling Using Next Generation Sequencing - Advances, Advantages, and Challenges
5 Computational Analysis and Integration of MeDIP-seq Methylome Data
6 Analysis of Next-generation Sequencing Data in Virology - Opportunities and Challenges
7 RNA-seq – Revealing Biological Insights in Bacteria
8 Dealing with the Data Deluge – New Strategies in Prokaryotic Genome Analysis
9 Reaping the Benefits of Next-generation Sequencing Technologies for Crop Improvement — Solanaceae
10 Perspectives on the Application of Next-generation Sequencing to the Improvement of Africa's Staple Food Crops
11 Hop-variety Identification Using First- and Second-generation Sequencing
12 Analysis of Haplotype Sequences
13 On Genotyping Polymorphic HLA Genes — Ambiguities and Quality Measures Using NGS
14 DNA-based Diagnosis of Uncharacterized Inherited Macrothrombocytopenias Using Next-generation Sequencing Technology with a Candidate Gene Array
15 Clinical Implementation of Next-generation Sequencing in the Field of Prenatal Diagnostics
16 Impact of Gene Annotation on RNA-seq Data Analysis
1st true PDF with TOC BookMarkLinks