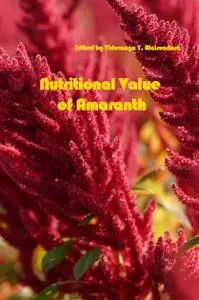 "Nutritional Value of Amaranth" ed. by Viduranga Y. Waisundara
ITExLi | 2020 | ISBN: 1838800840 9781838800840 1838800832 9781838800833 1838801855 9781838801854 | 149 pages | PDF | 6 MB
The book primarily focuses on the nutrient properties of amaranth and expresses its viewpoint in considering this crop as a remedy for many nutrient deficiencies and curbing food insecurity.
Pseudocereals, belonging to the genus Amaranthus, have been cultivated for their grains for 8,000 years or more. The grain was a staple food of the Aztecs and was also considered an integral part of Aztec religious ceremonies. The functional properties of the grain are immense and it is clear that the crop would be a valuable agricultural product around the world.
Contents
1.Amaranth as a Pseudocereal in Modern Times: Nutrients, Taxonomy, Morphology and Cultivation
2.Adaptation Strategies and Microwave Drying of Amaranth Species with a High Nutritional Value to the Ecuadorian Andean Region
3.Value of Amaranthus [L.] Species in Nigeria
4.Amaranth: An Ancient and High-Quality Wholesome Crop
5.Potential of Amaranth in Alleviating Malnutrition in Indonesia
6.Functional Value of Amaranth as Applied to Sports Nutrition
7.Nutritional Functional Value and Therapeutic Utilization of Amaranth
8.Effect of Various Process Conditions on the Nutritional and Bioactive Compounds of Amaranth
9.Amaranth Seed Oil Composition
10.Kinetics and Thermodynamics of Oil Extracted from Amaranth
1st true PDF with TOC BookMarkLinks