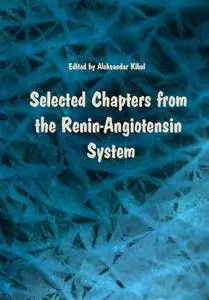 "Selected Chapters from the Renin-Angiotensin System" ed. by Aleksandar Kibel
ITExLi | 2020 | ISBN: 1789854229 9781789854220 1789854210 9781789854213 1789855543 9781789855548 | 160 pages | PDF | 14 MB
This volume aims to provide a comprehensive overview of the most important physiological and pathophysiological roles of the renin-angiotensin system (RAS). This book discusses relevant scientific knowledge about the RAS and intends to introduce the reader to cutting-edge research with an accentuation on the mechanisms at the functional/physiological and molecular/cellular levels.
The complex and convoluted RAS has been investigated for many years and, through rigorous scientific research, many important and previously unknown components and functions of the RAS have come to light. These discoveries have been crucial in the understanding of this system and provide a basis for effective modulation of the system as part of therapeutic strategies for a number of widespread disorders. New studies are continuing to elucidate the RAS and the mechanisms associated with its functions.
Contents
1.From Angiotensin to Renin to Prorenin and from the Adrenal to the Kidney to the Placenta and the Lungs: An Historical Journey
2.The Renin-Angiotensin-Aldosterone System: Genomics, Proteomics and Therapeutic Implications
3.Significance of the Renin-Angiotensin System in Clinical Conditions
4.Treatment of Essential Hypertension with Emphasis in the Renin-Angiotensin System: How to Prevent Secondary Outcomes without Adding Fuel to the Fire
5.The Intratubular and Intracrine Renin-Angiotensin System in the Proximal Tubules of the Kidney and Its Roles in Angiotensin II-Induced Hypertension
6.Scientific Evidences Supporting the Activation of the Renin-Angiotensin-Aldosterone System during Estral Cycle and Pregnancy in Mares
7.Connexin-Based Channels and RhoA/ROCK Pathway in Angiotensin II-Induced Kidney Damage
8.The Potential Role of Renin Angiotensin System (RAS) and Dipeptidyl Peptidase-4 (DPP-4) in COVID-19: Navigating the Uncharted
1st true PDF with TOC BookMarkLinks