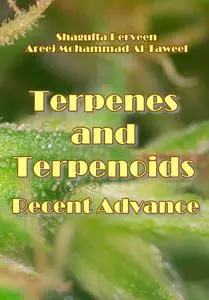 "Terpenes and Terpenoids: Recent Advances" ed. by Shagufta Perveen, Areej Mohammad Al-Taweel
ITexLi | 2021 | ISBN: 1838819177 9781838819170 1838819169 9781838819163 1838819185 9781838819187 | 97 pages | PDF | 8 MB
This book provides an overview and highlights recent research in the phytochemical and biological understanding of terpenes and terpenoids, examining the most essential functions of these kinds of secondary metabolites.
Terpenes belong to the diverse class of chemical constituents isolated from materials found in nature. They play a very important role in human health and have significant biological activities, including anticancer, antimicrobial, anti-inflammatory, and antioxidant effects.
Contents
1. Terpenes in Essential Oils: Bioactivity and Applications
2. Sacha Inchi Seed (Plukenetia volubilis L.) Oil: Terpenoids
3. Algal Terpenoids: A Potential Source of Antioxidants for Cancer Therapy
4. Effects of Terpenes and Terpenoids of Natural Occurrence in Essential Oils on Vascular Smooth Muscle and on Systemic Blood Pressure: Pharmacological Studies and Perspective of Therapeutic Use
5. Sesquiterpene from Myanmar Medicinal Plant (Curcuma comosa)
6. Terpenoids: Lycopene in Tomatoes
1st true PDF with TOC BookMarkLinks
More :
You find here