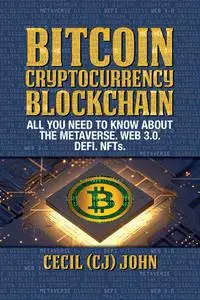 Bitcoin Cryptocurrency Blockchain: All You Need to Know About the Metaverse.Web 3.0. DEFI. NFTs by Cecil (CJ) John
English | June 21st, 2022 | ISBN: 1722505907 | 248 pages | True EPUB | 13.25 MB
BITCOIN, CRYPTOCURRENCY, BLOCKCHAIN, NFTS, DEFI, METAVERSE— THESE WORDS DESCRIBE THE NEW INDUSTRIAL REVOLUTION AND THE BIRTH OF RADICALLY DISRUPTIVE DIGITAL CURRENCIES. WHAT DO THEY MEAN?