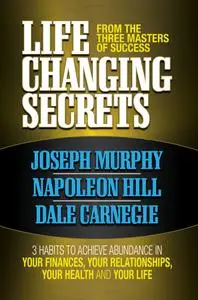 Life Changing Secrets From the Three Masters of Success: 3 Habits to Achieve Abundance in Your Finances, Your Health and Your Life by Joseph Murphy, Napoleon Hill, Dale Carnegie
English | November 7th, 2019 | ISBN: 172250286X | 464 pages | EPUB | 1.49 MB
SUCCESS SECRETS FROM THE 3 MASTERS OF SUCCESS Discover the way the world really works. Certain unseen principles control the translation of our desires to reality. These reside in the power of your mind. The three masters of success have laid them out clearly and straightforwardly in this volume. If you follow their principles success will be yours.