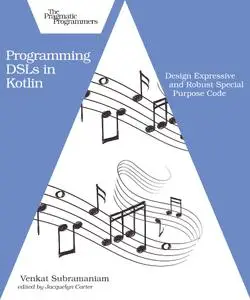 Programming DSLs in Kotlin by Venkat Subramaniam
English | March 23rd, 2021 | ISBN: 9781680508260 | 110 pages | True EPUB | 1.49 MB
Creating your own domain-specific languages (DSLs) is both challenging and exhilarating. DSLs give users a way to interact with your applications more effectively, and Kotlin is a fantastic language to serve as a host for internal DSLs, because it greatly reduces the pain and effort of design and development. But implementing DSLs on top of Kotlin requires understanding the key strengths of the language and knowing how to apply them appropriately. Learn to avoid the pitfalls and leverage the language while creating your own elegant, fluent, concise, and robust DSLs using Kotlin.