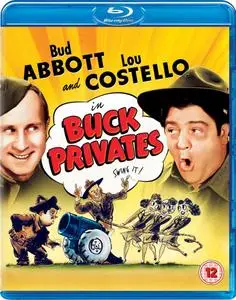 Buck Privates (1941) + Extras
BDRip 720p | MKV | 1280 x 720 | x264 @ 2560 Kbps | 1h 24mn | 1,73 Gb + 757 Mb
Audio: English AC3 2.0 @ 192 Kbps + Commentary track | Subtitles: English
Genre: Comedy, Musical, War | Director: Arthur Lubin
Bud and Lou enlist in the army in order to escape being hauled off to jail, and soon find themselves in basic training. To their dismay, the company's drill instructor is none other than the cop who was all set to run them off to the hoosegow in the first place! The boys end up having a whale of a time getting under the skin of their humourless nemesis.
IMDB
- Nominated for 2 Oscars
(Enlargeable)

Audio commentary
with film historians Bob Furmanek and Ron Palumbo
Extras:
–
Abbott and Costello Meet Jerry Seinfeld
(45:42) is the hugely popular television special that originally aired on NBC and attracted tens of millions of viewers. Jerry hosts a retrospective look at the duo, which includes footage of some of their best known routines, as well as some charming home movies. Jerry's explanations are a bit labored (do we really need to wonder how such oddly named baseball players in the "Who's on First?" routine ended up on the same team?), but the actual Abbot and Costello sequences are priceless.
–
100 Years of Universal: The Carl Laemmle Era
(8:41) is an engaging, albeit brief, look at Universal's founder and guiding spirit through its formative years.
–
100 Years of Universal: Unforgettable Characters
(8:18) is a quick overview of some of the most iconic characters that have graced Universal films. Some might wonder if The Big Lebowski's The Dude is in quite the same category as Frankenstein's Monster, but there are a lot of fun little snippets included here.
Abbott and Costello - One Night in the Tropics (1940)
Abbott and Costello - In the Navy (1941)
Abbott and Costello - Hold That Ghost (1941)
Abbott and Costello Meet the Mummy (1955)