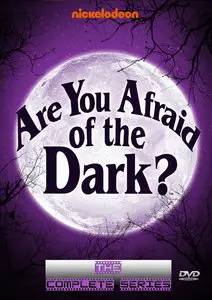 Are You Afraid of the Dark? (1992-2000) [The Complete Series]
21xDVD5 | ISO+MDS | NTSC 4:3 | ~24 min per Ep | 91 Eps, ~2200 mins and 79,7 Gb
Audio: #1 English, #2 French, #3 Spanish - AC3 2.0 @ 192 Kbps (each track) | Subs: None
Genre: Family, Horror, Mystery, Sci-Fi
A group of friends who call themselves "The Midnight Society" meet in the woods at night to tell ghost stories around the campfire. Each episode features a new story dealing with different characters in different situations. The series, which was part of the SNICK lineup, was one of Nickelodeon's most popular shows in the early 90's and lasted for 5 seasons, until it was canceled in 1996. It was then revived in 1999 with an all new cast, only to be canceled again two seasons later. This Twilight Zone for a younger audience, is sorely missed and will always remain one of Nick's greatest classics.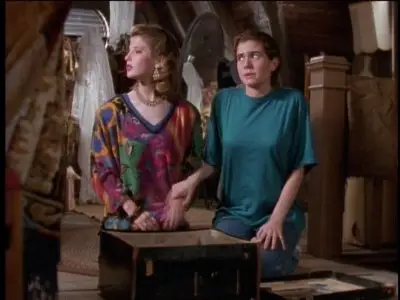 Are You Afraid of the Dark? was a children's horror show made by YTV in Canada and aired on Nickelodeon in the US. The pilot of the show was broadcast on October 31, 1990. The original show lasted from August, 1991 to April, 1996. The show was then revived in February, 1999 and lasted until June, 2000.




The story revolved around a club of teenagers called the Midnight Society who meet around a campfire in the woods once a week to tell horror stories. Each of the members had their own quirk and storytelling style; one specialized in fairy-tale like stories, one specialized in Trapped in Another World stories. The show was just your typical Speculative Fiction/horror anthology series like The Twilight Zone or Tales from the Crypt for the early teen set.




The nature of the show's scariness can be likened to R.L. Stine's Goosebumps novels (Stine's books themselves were later adapted into a TV series as well), only more well-developed in story and characterization and with legitimately scary content. Creative plots, readiness to completely eschew formula, and genuinely frightening imagery more than made up for the limited budgets. "AYAOTD" introduced many a child of the 90s to some of their first Horror Tropes, not to mention Sci-Fi and the occasional dose of Kafka.




While the original Midnight Society went through a few new additions and farewells over the seasons, a drastic change came when a new production team picked up after a three year gap in new episodes. The entire cast was replaced except for Tucker, the previous leader Gary's little brother, who now led the new Midnight Society. The entire flavor of the stories also changed, becoming less creepy and surprising, and more about leading up to an Anvilicious Aesop. This Re Tool lasted all of a year.




The show also had a tie-in video game, The Tale of Orpheo's Curse, released in 1994. It was a DOS-based point-and-click adventure game (think Myst, but with more character interaction). The framing device is that you are a potential new member of the Midnight Society telling a story to gain admittance; the actual game is the story, about a brother and sister stuck in a haunted theater, trying to break the curse on the place before they end up as the next victims.




No description of the series would be complete without mentioning its terrifying opening credits sequence. If you grew up watching the show, chances are there was a time when you or a sibling would run from the room within seconds of it turning up on the TV screen.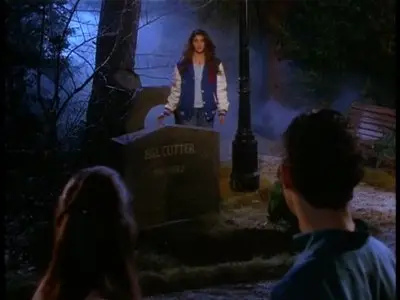 "Are You Afraid of The Dark?" is hands down my favorite show from my childhood & still to this day I enjoy it. The premise of this show is simple, a group of teens sit around a campfire & tell scary stories. However, the stories are shown as actual characters acting out the stories in a smiler style as episodes from "The Twilight Zone". While the stories are scary, they never are over the top & never go beyond PG-13 (but some get pretty close). I'd recommend ages 8 & up but truthfully, I was watching this show at 6 or maybe even younger. Now hear's the bad news, to get this show you need to pay close to $1,000.00 in American money. I'd give this 5 stars for the show but it gets 4 stars because of being ridiculously expensive.


Amazon.com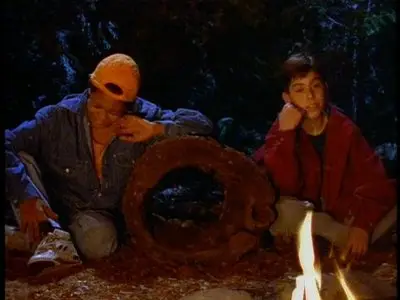 S1D1 (4,32 Gb): season 1, episodes 1-4
S1D2 (4,22 Gb): season 1, episodes 5-8
S1D3 (4,31 Gb): season 1, episodes 9-13

S2D1 (3,49 Gb): season 1, episodes 1-4
S2D2 (3,50 Gb): season 1, episodes 5-8
S2D3 (4,35 Gb): season 1, episodes 9-13

S3D1 (3,56 Gb): season 1, episodes 1-4
S3D2 (3,55 Gb): season 1, episodes 5-8
S3D3 (4,31 Gb): season 1, episodes 9-13

S4D1 (3,04 Gb): season 1, episodes 1-4
S4D2 (3,12 Gb): season 1, episodes 5-8
S4D3 (3,52 Gb): season 1, episodes 9-13

S5D1 (3,90 Gb): season 1, episodes 1-4
S5D2 (3,90 Gb): season 1, episodes 5-8
S5D3 (4,31 Gb): season 1, episodes 9-13

S6D1 (3,54 Gb): season 1, episodes 1-4
S6D2 (3,48 Gb): season 1, episodes 5-8
S6D3 (4,17 Gb): season 1, episodes 9-13

S7D1 (3,47 Gb): season 1, episodes 1-4
S7D2 (3,43 Gb): season 1, episodes 5-8
S7D3 (4,25 Gb): season 1, episodes 9-13
Many Thanks to Original uploader.