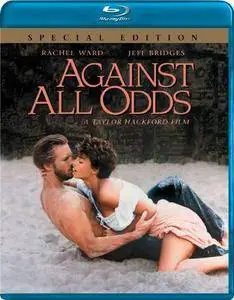 Against All Odds (1984)
BDRip 720p | MKV | 1280 x 720 | x264 @ 2560 Kbps | 2h 1mn | 2,99 Gb
Audio: English AC3 5.1 @ 448 Kbps + 2 Commentary tracks | Subs: English
Genre: Action, Adventure, Crime | Director: Taylor Hackford
Terry Brogan, an aging football player in L.A., is cut early in the season; he needs money, so he takes a job from a shady friend of his, Jake Wise, to track down Wise's girlfriend, Jessie, who's somewhere in Mexico. She's also the daughter of a very wealthy land developer, who owns Terry's team. He heads for Cozumel, finds Jessie, and promptly falls in love with her. He thinks it's mutual, then without warning, she heads back to L.A. and Jake. What's going on with her, and what's the connection between Jake's hold on Jessie and the various politicians, lawyers, and environmentalists who seem to be converging on some sort of land deal? Terry keeps looking for answers.
IMDB
- Nominated for 1 Oscar
Taylor Hackford's best film. Jeff Bridges is superb as the cynical Terry Brogan and James Woods is his usual terrific bad guy self as Jake Wise. We are immediately drawn into Terry's disintegrating world as a pro football player as he becomes enmeshed in the seedy underbelly of sports betting and the high brow clientele being catered to. Rachel Ward (who I loved in The Thornbirds) brings sizzling sensuality to the film, but the true enjoyment of the film comes from the exposing of the corrupt foundations of the L.A. jet set by one of its own "lost" heroes.
(Enlargeable)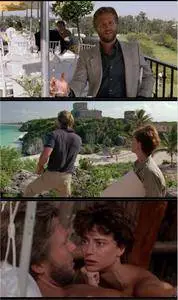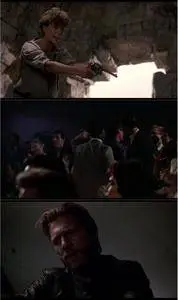 - Audio Commentary
with Director Taylor Hackford and Actors Jeff Bridges and James Woods: The three collaborators chat like the old friends they have remained, and the commentary sometimes gets boisterous (especially when they're reminiscing about shooting the club scene featuring King Creole and the Coconuts). Hackford tends to discuss the story (on his solo commentary for The Devil's Advocate, he virtually summarized the film), but Bridges and Woods frequently pull the discussion toward the process of shooting the movie and the nuts and bolts of acting. It's a lively commentary, well worth hearing.
- Audio Commentary
with Director Taylor Hackford and Screenwriter Eric Hughes: Hackford recorded this commentary with Hughes the day after doing the commentary with his actors. He characterizes it as more "technical", which is accurate in the sense that he and Hughes don't stick as closely to the action on-screen.