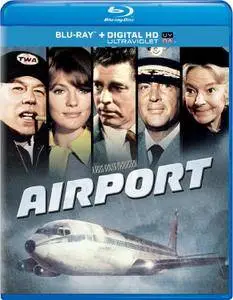 Airport (1970)
BDRip 720p | MKV | 1280 x 720 | x264 @ 2560 Kbps | 2h 16mn | 2,87 Gb
Audio: English AC3 5.1 @ 448 Kbps | Subtitles: English (embedded)
Genre: Action, Thriller | Directors: George Seaton, Henry Hathaway
This precursor to later "epic" 70's disaster films illustrates 12 hours in the lives of the personnel and passengers at the "Lincoln Airport." Endless problems, professional and personal, are thrown at the various personnel responsible for the safe and proper administration of air traffic, airline management and aviation at a major US airport. Take one severe snowstorm, add multiple schedules gone awry, one elderly Trans Global Airlines stowaway, shortages, an aging, meretricious pilot, unreasonable, peevish spouses, manpower issues, fuel problems, frozen runways and equipment malfunctions and you get just a sample of the obstacles faced by weary, disgruntled personnel and passengers at the Lincoln Airport. Toss in one long-suffering pilot's wife, several stubborn men, office politics and romance and one passenger with a bomb and you have the film "Airport" from 1970.
Airport is a classic film that was one of the films that began the disaster film genre. It contains great actors like Burt Lancaster, Dean Martin, Helen Hayes, George Kennedy and Jaquline Bissett. Helen Hayes won the films only Oscar for Best Supporting Actress for her comic role as the Stow away. I have one question. Where was George Kennedy's Oscar? I think he should have recieved an Oscar for his role as Joe Patronni. To recieve 10 Oscar nominations is an incredible achievement for a film of this Genre. Alfred Newman gives an upbeat and suspenseful music score and Ernest Laszlo's cinematography is good. Altogether, this film is a great one and there isn't any down spots that I noticed. Dean Martin was great as the smart mouthed airline pilot and Burt Lancaster as Bakerfeld, the airport manager. Van Hefiln was also good because he made you believe that his character had problems. A great film, worth your time to watch.
(Enlargeable)