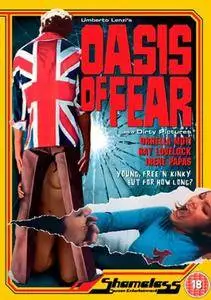 An Ideal Place to Kill (1971)
DVDRip | MKV | 704x448 | x264 @ 2314 Kbps | 84 min | 1,51 Gb
Audio: English dub AC3 2.0 @ 192 Kbps | Subs: English hardcoded when it needed
+ Optional Commentary subtitle text track
Genre: Crime, Thriller, Giallo
Director:
Umberto Lenzi
Writers:
Antonio Altoviti, Lucia Drudi Demby
Stars:
Irene Papas, Ray Lovelock, Ornella Muti
Two hippies find themselves on the run from the law and soon end up going undercover in a villa owned by a mysterious woman.
AKA:
Oasis of Fear (1971)
Most enjoyable outing from Mr Lenzi and whilst giallo-esquire is really quite a mixed bag. Starting off as a bit of a hippy drippy affair with a young uninhibited couple using their bodies and their guile to get a free holiday, this turns into something much darker. There is real suspense including a splendid Hitchcockian scene in an aviary, lots of nudity and some pretty nasty moments. Irene Papas ( 'Zorba the Greek' and 'Don't Torture a Duckling') lends considerable gravitas with her impressive performance as the mature woman with something of a problem to sort out. Ray Lovelock is appealing as the handsome young man who likes fast cars and faster women but it is the lovely 16 year old Ornella Muti who is always catching the eye. Apparently the almost too perfect nude shots are of a body double but we still get plenty of up the shorts shots as she bends obligingly forward. All three are a great asset and with a decent script and Lenzi's constant inventiveness, this is a fine piece of exploitation cinema.
(click to enlarge)
Note!
Optional Commentary subtitle text track is just informative Facts about The Film displayed like a subtitle
More in My Blog