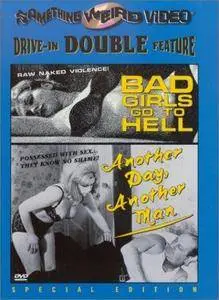 Bad Girls Go to Hell (1965)
DVDRip | AVI | 656x480 | XviD @ 1806 Kbps | English AC3 1.0 @ 192 Kbps | 64 min | 925 Mb
Genre: Drama, Sexploitation
Director:
Doris Wishman
Writer:
Doris Wishman (story and screenplay) (as Dawn Whitman)
Stars:
Gigi Darlene, Charles E. Mazin, Sam Stewart
After hubby Ted goes to work, Ellen putters around the apartment in her nightgown cleaning up. When she takes the trash out, the janitor forces her into his apartment and rapes her. When he tries to rape her again, she dispatches him and then hits the road, a fugitive from injustice. She goes to the Big City and encounters a string of situations where she gets used and abused. When she finally finds a nice woman to rent from, the woman's son turns out to be a detective, which threatens her newly found identity and peace of mind.
Filming in glorious and gritty black and white, Ms Wishman offers us the beautiful and talented Gigi Darlene as an everywoman in 1960's urban America suffering the birth-pangs of the sexual revolution. Take a peek at this, if you ever get the opportunity, to see an example of the art that influenced pulp film-makers of the 1960's and 1970's, John Waters, and many musicians and artists active in the Punk scene.
(click to enlarge)

More in My Blog