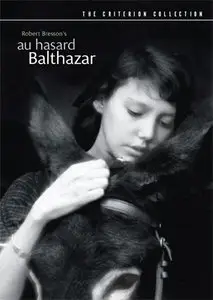 Robert Bresson - Au Hasard Balthazar [1 DVD9] [2005]
Art House | 1.66:1 | B&W | Mono | French with English subtitles | 95 min.
1 Double-Layer DVD | 300dpi Scans = 7.55 GBs | 100MB RARs | RS
A profound masterpiece from one of the most revered filmmakers in the history of cinema, director Robert Bresson's Au hasard Balthazar follows the donkey Balthazar as he is passed from owner to owner, some kind and some cruel but all with motivations beyond his understanding. Balthazar, whose life parallels that of his first keeper, Marie, is truly a beast of burden, suffering the sins of man. But despite his powerlessness, he accepts his fate nobly. Through Bresson's unconventional approach to composition, sound, and narrative, this seemingly simple story becomes a moving parable of purity and transcendence.
MOVIE:
DIRECTOR: Robert Bresson
COUNTRY: France
YEAR: 1966
DISC FEATURES:
•New, restored high-definition digital transfer
•New video interview with film scholar Donald Richie
•"Un metteur en ordre: Robert Bresson," a 1966 French television show about the film, featuring Bresson, Jean-Luc Godard, Louis Malle, and members of Balthazar's cast and crew
•Original theatrical trailer
•New and improved English subtitle translation
•Plus: A new essay by film scholar James Quandt
DVD:
DVD RELEASE: 2005
STUDIO: Criterion
SYSTEM: NTSC
SCREEN: 1.66:1
COLOR: B&W
AUDIO: French Mono
SUBTITLES: English
RUNTIME (MOVIE): 95 minutes
EXTRACTION DVD:
ENGINE: DVD Decrypter 3.5.4.0
DVD EXTRACTION: 1 Double-Layer DVD
FILE EXTENSION: VIDEO_TS / AUDIO_TS
FILE SIZE: 7.52 GBs
SCANS: Full Art Scan
SCANS FILE SIZE: 32 MBs
TOTAL SIZE: 7.55 GBs
The DVD is ripped from the original Criterion DVD.
Includes full hi-res scans.
INFO LINK:
Criterion
Download TXT file