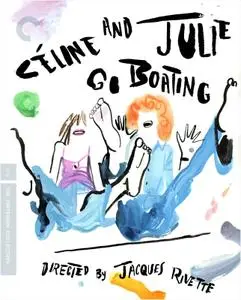 Celine and Julie Go Boating / Céline et Julie vont en bateau (1974) [Criterion Collection, Spine #1069]
DVD Video, 3 x DVD9 | NTSC 4:3 | 720x480 | 3hr 14mn | ~ 21.1 Gb
French (Français): Dolby AC3, 1 ch \ English: Dolby AC3, 1 ch
Subtitles: English
Genre: Comedy, Drama, Fantasy


Director:
Jacques Rivette
Writer:
Juliet Berto (scenario) (as Berto), Dominique Labourier (scenario) (as Labourier)
Stars:
Juliet Berto, Dominique Labourier, Bulle Ogier
Whiling away a summer in Paris, director Jacques Rivette, working in close collaboration with his stars and coconspirators Juliet Berto and Dominique Labourier, set out to rewrite the rules of cinema in the spirit of pure play—moviemaking as an anything-goes romp through the labyrinths of imagination. The result is one of the most exuberantly inventive and utterly enchanting films of the French New Wave, in which Julie (Labourier), a daydreaming librarian, meets Céline (Berto), an enigmatic magician, and together they become the heroines of a time-warping adventure involving a haunted house, psychotropic candy, and a murder-mystery melodrama. Incorporating allusions to everything from Lewis Carroll to Louis Feuillade, Céline and Julie Go Boating is both one of the all-time-great hangout comedies and a totally unique, enveloping cinematic dream space that delights in the endless pleasures and possibilities of stories.
Extras:
- New 2K digital restoration, with uncompressed monaural soundtrack
- Audio commentary from 2017 featuring critic Adrian Martin
- Jacques Rivette: Le veilleur, a 1994 two-part feature documentary by Claire Denis, featuring an extensive interview with Rivette by film critic Serge Daney
- New interviews with actor Bulle Ogier and producer and actor Barbet Schroeder
- New conversation between critic Pacôme Thiellement and Hélène Frappat, author of Jacques Rivette, secret compris
- Archival interviews with Rivette, Ogier, and actors Juliet Berto, Dominique Labourier, and Marie-France Pisier
- New English subtitle translation
All thanks to the original uploader