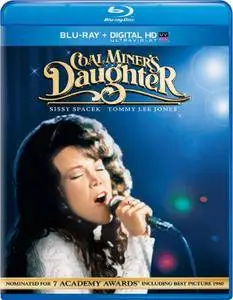 Coal Miner's Daughter (1980)
BDRip 720p | MKV | 1280 x 720 | x264 @ 2560 Kbps | 2h 4mn | 2,78 Gb
Audio: English AC3 5.1 @ 448 Kbps + Commentary track | Subs: English
Genre: Drama | Director: Michael Apted
At only thirteen years of age, Loretta Webb marries Doolittle Lynn and is soon responsible for a sizeable family. Loretta appears destined to a life of homemaking, but Doolittle recognises his wife's musical talent, and buys her a guitar as an anniversary present one year. At eighteen, the mother of four children and busy housewife still finds time to write and sing songs at small fairs and local honky-tonks. This gift sets Loretta Lynn on the gruelling, tumultuous path to superstardom and country music greatness.
IMDB
- Won 1 Oscar + Another 8 wins
Loretta Lynn's life has been to say the least,interesting.A wife at 13, mother at 14,and walking a long path to her throne as the "Queen of Country Music".Triumphs and tragedies have virtually filled her life, and it was expertly brought to life in this film.Sissy Spacek gives a dead on performance as Lynn,right down to her voice,and even does her own singing for the film.This is without a doubt one of the best acting performances of a non fictional character I have ever seen,and let us not forget the Oscar worthy performance of Tommy Lee Jones as Doolittle Lynn,Loretta's husband.He is always excellent,but he was never better than he was here.This is an excellent true story of Loretta's long journey from the Kentucky backwoods to the Grand Ole Opry stage.A must see and must own movie.
(Enlargeable)

Audio Commentary
with director Michael Apted, and actress Sissy Spacek