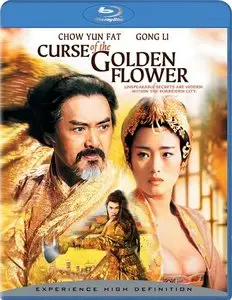 Curse of the Golden Flower (2006)
1080p BluRay Rip | MKV | 1920 x 816 | x264 @ 18.8 Mbps | 01:53:36 | 16,26 Gb
Audio: Mandarin AC3 5.1 @ 640 Kbps | Subtitles: English
Genre: Action, Drama, Romance | Nominated for Oscar + 11 wins | Hong Kong, China
A dying love between two powerful people leads to deceit, infidelity, and conspiracy in this epic-scale historical drama from director Zhang Yimou. During the latter days of the Tang dynasty, the Emperor (Chow Yun-Fat) returns home from the war with his son Prince Jai (Jay Chou) in tow. However, the monarch gets a chilly reception from the Empress (Gong Li); though she's eager to see her son, her marriage has become deeply acrimonious, and she's taken a lover, Crown Prince Wan (Liu Ye), her stepson from the Emperor's first marriage. The Emperor, meanwhile, has his own plan for dealing with his failing marriage – he's ordered the Imperial Doctor (Ni Dahong) to find an exotic drug that will drive the Empress insane and administer it to her without her knowledge. However, the doctor's ethical dilemma is intensified by the fact his daughter Chan (Li Man) has fallen in love with Crown Prince Wan and the two wish to elope. As the Emperor and Empress allow their estrangement to sink into violence and retribution, their youngest son, Prince Yu (Qin Junjie), struggles to keep the peace in the household. Curse of the Golden Flower (aka Man Cheng Jim Dai Huang Jin Jia) received its North American premiere at the 2006 American Film Institute Los Angeles Film Festival.
IMDB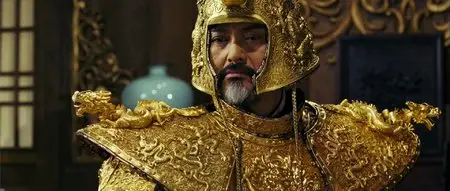 Curse of the Golden Flower has its work cut out for it in terms of audience expectations. It will disappoint viewers hoping for Chow Yun-Fat to take them on a high-kicking martial arts thrill ride, but if you go into the movie expecting more of a Shakespearian tragedy than a wushu adventure, this epic tale is sure to impress.




While it's true that Golden Flower can feel stilted and murky compared to director Zhang Yimou's more enthralling movies like Hero and Raise the Red Lantern, it's still an incredibly textured, multi-dimensional narrative. The opulent costumes and art direction are dazzling enough to keep you transfixed, but as brooding as the mood can be, the story is still eloquent and moving. The twists and turns of who is double crossing whom can get a little confusing, but the film still manages to gracefully run the gamut from an intimate melodrama to a symbolic yarn about human nature. Both of these readings hinge on a plot about a tenth century Chinese royal family that struggles within the confines of the extremely insulated palace through poisonings, attempted coups, and possibly incestuous affairs. All that drama might sound a little too much like a soap opera, and sometimes it is, but the emphasis is on the opera. This is a larger-than-life fable about how the power and isolation of courtly life removes all frame of reference from the lives of royals, so that destructive acts of greater and greater excess and insanity become reasonable.




Zhang does an excellent job of imparting that sequestered feeling, making the viewer feel just as confined as the characters, who are almost never depicted outside the narrow corridors, paper-thin walls, and overwhelming ornamentation of the palace. This is the same isolation that fuels a story like Hamlet, where only after their warped hate and paranoia leads most of the characters to kill each other off does the absurdity of the last two bloody hours hit home. While a literal translation of the film's original Chinese title is something along the lines of "The Whole City Is Covered in Golden Armor," the American-release title of the film is extremely telling with regard to the story's meaning. The gold chrysanthemum was a flower symbolic of nobleness and royalty in ancient China, and thus the inherent calamity, betrayal, and misfortune that befall those who wear the crown could easily be called the curse of the golden flower. It's a familiar tale, but a good one, especially when told with such style.
Cammila Albertson, Rovi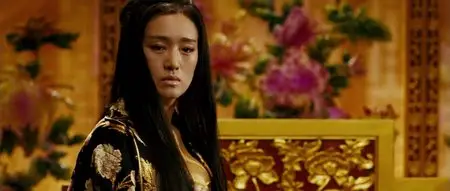 Yimou Zhang made the international (read: American) crowd stand up and take notice with Raise the Red Lantern, which was released several years before. And when it comes to his body of work, not being too familiar with it personally, he has managed to redefine his career among the eyes of many people. He's managed to do this while at the same time, creating a small niche of cinema that successfully blends epic vision, romantic or emotional tales, and absolutely amazing wire action, with probably more genuine, non computer generated sequences than one might think. And while his last three films share the common overall traits of epic action and drama, set in period-piece China, they explore various character personalities that set them apart. In Hero you had the story of the main character, and a compelling one at that with action sequences unseen since Crouching Tiger, Hidden Dragon. In House of Flying Daggers, the action might have been raised a bit more, but the stories of the characters were interwoven far more in this film, making for some great twists and turns and, for my money, one of the best films of 2004.




Curse of the Golden Flower pares the action down quite a bit, and puts the focus on a family whose relationships are rapidly eroding beyond repair. Ping's wife, Phoenix, rebels and refuses to take the medicine given to her, but Ping puts together an elaborate setting with the family sitting around a table to demonstrate the "need" for her to take the medicine. Phoenix is engaging in a near-incestuous affair with her stepson Wan (Ye Liu, The Foliage), but she also urges her other sons to take up arms against their father after she finds out the source of the poison. For the woman who informs her of this, there is a surprising twist to the story that you are stunned to see happen, and then her and her family attempt to evade assassination by Ping's warriors. The story builds to a head, and when the pressure cooker boils over and the inevitable rebellion occurs, it really is what you expect it to be. When Ping learns of the betrayal, it's a final confirmation that it's on like Donkey Kong, so sit yourself down and prepare to be amazed by what is going to transpire.




If there's something that detracts from the overall film, it's that the performances of the supporting cast seem so docile and without indulgence. Consider the supporting cast of Zhang's previous films for a second; Tony Leung (Lust, Caution), Maggie Cheung (2046) and Ziyi Zhang appeared in Hero. Zhang and Andy Lau (Infernal Affairs) were in House of Flying Daggers), the supporting cast should have been given the chance to stretch their dramatic legs, as some of them might have some charisma. They do manage to put in commendable performances, but the ones to watch are the main two. Chow Yun-Fat is remarkably restrained as Ping, the real performance to watch is Gong Li. She is the main focus of the film, and her role as a woman straining to break out of the oppression she faces is a revelation.




Curse of the Golden Flower is a fascinating film about family that sets off on a slow burn into a battle of epic proportions that few directors are able to accomplish. The fact that a Hong Kong action legend is at the head of some of these events makes it gravy.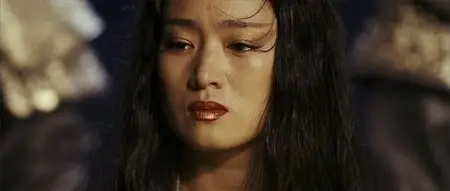 Download:













Interchangable links.
All Thanks goes to Macho!!!
No More Mirrors.