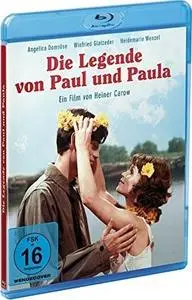 The Legend of Paul and Paula / Die Legende von Paul und Paula (1973)
Blu-Ray | BDMV | AVC, 1920x1080, ~18.0 Mbps | 1hr 45mn | 22,1 GB
German (Deutsch): DTS-HD Master Audio, 2 ch, 1560 kbps
Subtitles: English, French (Français), Spanish (Español)
Genre: Drama, Romance


Director:
Heiner Carow
Writer:
Heiner Carow, Anne Pfeuffer (dramatisation)
Stars:
Angelica Domröse, Winfried Glatzeder, Heidemarie Wenzel
Paul and Paula have had bad experiences with love: Paul is financially well off but has lost all affection for his wife, and Paula leads a troublesome life raising two children on her own. They meet and discover a strong passion for each other. Life seems like a dream when they're together - but their short flights from the burdens of reality are once and again interrupted by Paul's ties to family and career.
Extras:
- Interview with Angelica Domröse
- Interview with Winfried Glatzeder
- Original movie trailer

                                                                                                                Total   Video                                             
Title                                                           Codec   Length  Movie Size      Disc Size       Bitrate Bitrate Main Audio Track                          Secondary Audio Track
-----                                                           ------  ------- --------------  --------------  ------- ------- ------------------                        ---------------------
00000.MPLS                                                      AVC     1:45:19 16 412 442 624  23 799 897 301  20,78   18,00   DTS-HD Master 2.0 1560Kbps (48kHz/16-bit) 



DISC INFO:

Disc Title:     DieLegendeVonPaulUndPaula.1973.Br
Disc Size:      23 799 897 301 bytes
Protection:     AACS
BD-Java:        No
Extras:         50Hz Content
BDInfo:         0.5.8

PLAYLIST REPORT:

Name:                   00000.MPLS
Length:                 1:45:19.541 (h:m:s.ms)
Size:                   16 412 442 624 bytes
Total Bitrate:          20,78 Mbps

VIDEO:

Codec                   Bitrate             Description     
-----                   -------             -----------     
MPEG-4 AVC Video        17998 kbps          1080p / 24 fps / 16:9 / High Profile 4.1

AUDIO:

Codec                           Language        Bitrate         Description     
-----                           --------        -------         -----------     
DTS-HD Master Audio             German          1560 kbps       2.0 / 48 kHz / 1560 kbps / 16-bit (DTS Core: 2.0 / 48 kHz / 1509 kbps / 16-bit / DN -4dB)

SUBTITLES:

Codec                           Language        Bitrate         Description     
-----                           --------        -------         -----------     
Presentation Graphics           English         15,663 kbps                     
Presentation Graphics           French          15,133 kbps                     
Presentation Graphics           Spanish         14,780 kbps                     

FILES:

Name            Time In         Length          Size            Total Bitrate   
----            -------         ------          ----            -------------   
00000.M2TS      0:00:00.000     1:45:19.041     16 412 430 336  20 778          
00004.M2TS      1:45:19.041     0:00:00.500     12 288          197             

CHAPTERS:

Number          Time In         Length          Avg Video Rate  Max 1-Sec Rate  Max 1-Sec Time  Max 5-Sec Rate  Max 5-Sec Time  Max 10Sec Rate  Max 10Sec Time  Avg Frame Size  Max Frame Size  Max Frame Time  
------          -------         ------          --------------  --------------  --------------  --------------  --------------  --------------  --------------  --------------  --------------  --------------  
1               0:00:00.000     0:09:34.375     17 777 kbps     32 516 kbps     00:05:52.083    30 139 kbps     00:06:15.041    29 472 kbps     00:06:09.999    92 582 bytes    408 860 bytes   00:01:36.500    
2               0:09:34.375     0:08:59.125     17 193 kbps     32 792 kbps     00:14:34.625    29 510 kbps     00:11:59.541    29 090 kbps     00:11:58.583    89 546 bytes    316 463 bytes   00:15:05.625    
3               0:18:33.500     0:09:34.875     20 438 kbps     31 972 kbps     00:23:51.666    31 080 kbps     00:23:56.041    30 941 kbps     00:23:51.666    106 448 bytes   290 680 bytes   00:23:48.708    
4               0:28:08.375     0:10:54.416     16 349 kbps     29 407 kbps     00:37:12.166    25 401 kbps     00:38:17.625    23 845 kbps     00:38:12.666    85 149 bytes    279 267 bytes   00:37:12.208    
5               0:39:02.791     0:09:17.791     18 357 kbps     36 827 kbps     00:47:07.250    32 364 kbps     00:47:36.750    31 706 kbps     00:47:36.916    95 609 bytes    329 848 bytes   00:42:28.833    
6               0:48:20.583     0:08:11.958     20 360 kbps     39 278 kbps     00:51:43.166    35 544 kbps     00:51:39.208    34 854 kbps     00:51:41.208    106 044 bytes   319 133 bytes   00:52:18.500    
7               0:56:32.541     0:12:13.416     19 901 kbps     37 728 kbps     01:05:24.208    34 006 kbps     01:04:22.791    31 588 kbps     01:04:57.291    103 651 bytes   332 847 bytes   01:07:54.791    
8               1:08:45.958     0:10:36.750     11 881 kbps     30 954 kbps     01:18:17.666    28 454 kbps     01:18:17.625    27 353 kbps     01:18:17.666    61 878 bytes    284 904 bytes   01:17:17.416    
9               1:19:22.708     0:08:51.000     16 635 kbps     35 008 kbps     01:26:09.583    33 358 kbps     01:26:08.583    32 235 kbps     01:26:08.125    86 643 bytes    284 664 bytes   01:26:08.625    
10              1:28:13.708     0:10:53.333     20 261 kbps     35 026 kbps     01:30:44.000    31 648 kbps     01:30:16.083    31 239 kbps     01:30:16.083    105 528 bytes   298 521 bytes   01:30:43.375    
11              1:39:07.041     0:06:04.541     20 075 kbps     30 817 kbps     01:43:08.833    29 765 kbps     01:42:55.291    29 639 kbps     01:42:55.333    104 555 bytes   301 299 bytes   01:43:09.833    
12              1:45:11.583     0:00:07.958     391 kbps        695 kbps        01:45:11.750    441 kbps        01:45:11.750    0 kbps          00:00:00.000    2 050 bytes     16 823 bytes    01:45:13.750    

STREAM DIAGNOSTICS:

File            PID             Type            Codec           Language                Seconds                 Bitrate                 Bytes           Packets         
----            ---             ----            -----           --------                --------------          --------------          -------------   -----           
00000.M2TS      4113 (0x1011)   0x1B            AVC                                     6318,875                17 999                  14 217 038 837  77 355 638      
00000.M2TS      4352 (0x1100)   0x86            DTS-HD MA       deu (German)            6318,875                1 560                   1 232 330 180   7 702 447       
00000.M2TS      4608 (0x1200)   0x90            PGS             eng (English)           6318,875                16                      12 372 798      72 315          
00000.M2TS      4609 (0x1201)   0x90            PGS             fra (French)            6318,875                15                      11 954 425      70 397          
00000.M2TS      4610 (0x1202)   0x90            PGS             spa (Spanish)           6318,875                15                      11 675 409      68 889          
00004.M2TS      4113 (0x1011)   0x1B            AVC                                     0,375                   127                     5 958           36              


All thanks to the original uploader



If you like this release please visit my blog
In it you will find "Blu-Ray", "BDRip" releases in different languages