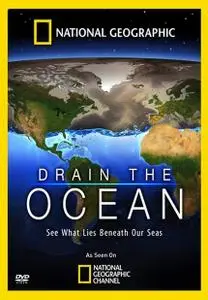 Drain the Oceans (2018) [Season 1]
DVD Video, 3 x DVD9 | NTSC 16:9 | 720x480 | 10 x ~ 0hr 49mn | 22,0 Gb
English: AC3, 6 ch, 448 Kbps | Subtitles: English
Genre: Documentary, History, Mystery, TV Mini-Series


reator:
Sophie Elwin-Harris
Stars:
Craig Sechler, Russell Boulter, James Delgado
By scanning the locations at the bottom of the ocean where sunken ships, treasures and even cities lie, the show tries to answer what they look like, how they got there and if they hide any secrets.
Film Distributor:
National Geographic
S1E1 Nazi Secrets
The hidden secrets of the Nazis are revealed when the oceans covering them are drained.
S1E2 Gulf of Mexico
Draining the Gulf of Mexico brings deadly secrets back to the surface. Stories of piracy, war, slavery and a dinosaur-killing asteroid are revealed.
S1E3 Lost Worlds of the Mediterranean
The secrets of lost ancient civilizations come to light when the Mediterranean is drained.
S1E4 Sunken Treasures
Treasure hunting has captured our imaginations for centuries. Draining the oceans reveals the richest wrecks ever found.
S1E5 Legends of Atlantis
Exciting evidence emerges of civilizations lost under the waves. But are these ancient cities the long sought-after Atlantis or accidents of geology?
S1E6 Deadly Pacific
Enter the Ring of Fire, breeding ground of the world's most devastating natural disasters.
S1E7 Egypt's Lost Wonders
The Nile was central to ancient Egypt. Draining its water reveals a lost wonder and the origins of the Egyptians' obsession with the afterlife.
S1E8 Mysteries of the China Seas
The China seas are the most fiercely contested and mysterious waters on the planet. We expose the remains of the biggest battleship ever put on the water.
S1E9 Ultimate Battleships
The hidden secrets of WWI's most powerful weapons are revealed by draining the North Sea.
S1E10 Malaysia Airlines 370
Where is Malaysian Airlines flight MH370? CGI reconstruction reveals the challenges of locating an aircraft that goes missing in the deep ocean.