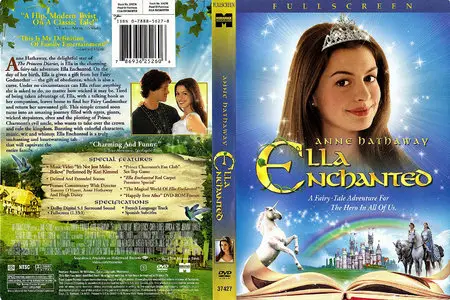 Ella Enchanted (2004)
DVD9 | VIDEO_TS | NTSC, 4:3 (720x480) VBR | 01:36:04 | 7.16 Gb
Audio: English AC3 5.1 @ 448 Kbps; Français AC3 5.1 @ 384 Kbps | Subs: English, Español
Genre: Comedy, Family, Romantic Fantasy
Adapted from author Gail Carson Levine's award-winning children's book of the same name, the Miramax-financed modern fantasy Ella Enchanted is directed by Tommy O'Haver and stars The Princess Diaries alumna Anne Hathaway. Ella (Hathaway) lives in a magical world in which each child, at the moment of their birth, is given a virtuous "gift" from a fairy godmother. Ella's so-called gift, however, is obedience. This birthright proves itself to be quite the curse once Ella finds herself in the hands of several unscrupulous characters whom she quite literally cannot disobey. Determined to gain control of her life and decisions, Ella sets off on a journey she hopes will end with the lifting of the curse in question. The path, however, isn't easy – Ella must outwit a slew of unpleasant magical creatures ranging from ogres to talking books with evil plots. Though perilous, Ella's adventures turn out to be necessary obstacles in the path toward finding herself, and maybe even true love along the way. Ella Enchanted also features Cary Elwes, who has starred in a fantasy feature himself (the widely acclaimed The Princess Bride), Hugh Dancy, and Patrick Bergin, among others.