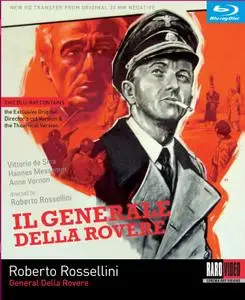 General Della Rovere (1959)
BDRip | MKV | 720x576 | x264 @ 2216 Kbps | 139 min | 2,40 Gb
Audio: Italiano AC3 2.0 @ 192 Kbps | Subs: English (embedded in MKV)
Genre: Drama, War
Director:
Roberto Rossellini
Writers:
Sergio Amidei, Diego Fabbri
Stars:
Vittorio De Sica, Hannes Messemer, Sandra Milo
Genoa, 1943. Grimaldi is a swindler, pretending to be a colonel in the Italian army to get money from the family of people put into jail by the Nazis. Once caught, the Gestapo makes a deal with him : he will stay alive if he impersonates the General Della Rovere, a leader of the Resistance who has just been shot by the Nazis, to be put into a political jail where he is supposed to identify another Resistance leader.
IMDB
- 12 wins + Nominated for 1 Oscar
Roberto Rossellini, as a filmmaker, cannot be compared to anyone else. Not because of any camera technique but because his mind, to tell a story, took shortcuts through truly dangerous territories. The nervous center of the Italian human nature is dissected with fierceness, compassion and even a touch of admiration. Redemption coming in the most unexpected form as a last, final test. Who am I, really? Could I at the last moment of my life become the man I always wanted to be? Beautiful, poignant, terrifying. Vittorio De Sica gives one the best performances of his eclectic and extraordinary career. The traveling of his thoughts seem to come out of the screen with the same intensity as his real smallness, his fear, his painful self awareness. Truth, with all is uncomfortable connotations 24 frames a second.
(click to enlarge)

More in My Blog