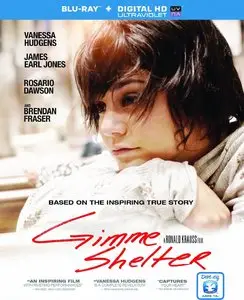 Gimme Shelter (2013)
BRRip | AVI | 720 x 304 | XviD @ 1899 Kbps | English AC3 5.1 @ 256 Kbps | 101 min | 1,60 Gb
Genre: Drama
16 year old street-wise Apple has never had an easy life. Her mother, June Bailey, is an addict and prostitute, is verbally and physically abusive, and is grooming her daughter to follow in her footsteps. Apple knows the streets, alleys and motels like the back of her hand but wants more from her life. She possesses a tenacious, tough, indomitable spirit, and will not surrender to fate. Apple runs away from her mother and tracks down her father whom she has never known, as he was only 19 when he got Apple's mother pregnant. Apple begs her now Wall Street Broker father, Tom Fitzpatrick, to take her in.
Vanessa was really amazing in this film! It completely shocked me how good she really was, I wasn't expecting her acting to blow me out of the water, but she did. Her performance really made the film for me, with this and the frozen ground I see her going places. Not only her but the whole cast was really strong. It was a heart wrenching storyline which, delivered by these amazing and strong actors just empowered me I guess. I was really looking forward to watching this as I thought the story line was unique and not cliché and unlike anything I've watched before. Also the fact that it was based in a true story just interested me all the more to watch it and I can honestly say that I was not disappointed! I would highly recommend anyone and everyone to watch it! It's a brilliant story with a brilliant cast but Vanessa easily outshines the rest of the cast, this is her film.


IMDB Reviewer
(click to enlarge)