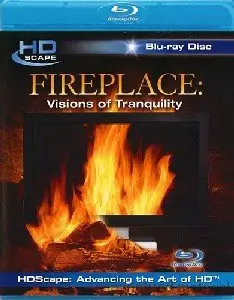 HDScape: Fireplace - Visions of Tranquility / HD Окно - Камины (2007)
Blu-Ray | AVC, 1920x1080, 25.3 Mbps | 1hr 47mn | 21.06 GB
Natural Sound: AC3, 2 ch, 192 kbps; Classical music: AC3, 6 ch, 640 kbps; Christmas music: AC3, 6 ch, 640 kbps
Genre: Relax | Documentary
Directors: Richard Diercks
Whether it's winter and you hope to escape the frosty cold outside or you want to spend a cozy evening with your family, Fireplace is the next best thing to a real fire. Its visual appeal in High Definition gives your home a welcoming atmosphere. It's also a great way to add a feeling of genuine comfort to any home or apartment.
Fireplace is shot on film and brought to you in High Definition which brings out all the rich hues and dancing shadows of a real wood fire. Listen to the crackling sounds of the fire or Dolby? TrueHD music as you watch the heart-warming Fireplace on Blu-ray.
Название:
HD Окно - Камины
Оригинальное название:
HDScape: Fireplace - Visions of Tranquility
Год выпуска:
2007
Жанр:
документальный, релакс
Выпущено:
США
Режиссер:
Ричард Диеркс
О фильме:
Отличное видео горящих каминов для релаксации, в стиле HDScape. Никаких титров, текстов, заставок и прочего - просто камин, а в нем горят и потрескивают дрова, и искры летят… Натуральные съемки - никаких спецэффектов, никакой "любительщины", съемки профессиональные. Когда камин догорит, переход к только загорающемуся камину совершенно незаметный. Таким образом можете наслаждаться тем, чего у вас нет, бесконечно. Четыре вида каминов, музыкальное сопровождение или просто потрескивание горящих поленьев - на Ваш выбор. Наслаждайтесь!