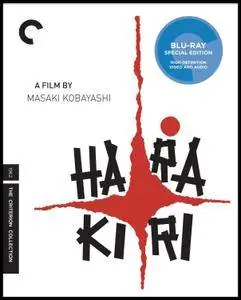 Harakiri (1962)
BRRip 720p | MKV | 1280 x 546 | x264 @ 1975 Kbps | 2h 13mn | 2,43 Gb
Audio: Japanese (日本語) AC3 1.0 @ 640 Kbps | Subs: English (embedded)
Genre: Action, Drama | Director: Masaki Kobayashi
Following the collapse of his clan, an unemployed samurai (Tatsuya Nakadai) arrives at the manor of Lord Iyi, begging to be allowed to commit ritual suicide on the property. Iyi's clansmen, believing the desperate ronin is merely angling for a new position, try to force his hand and get him to eviscerate himself – but they have underestimated his beliefs and his personal brand of honor. Winner of the Cannes Film Festival's Special Jury Prize, Harakiri, directed by Masaki Kobayashi is a fierce evocation of individual agency in the face of a corrupt and hypocritical system.
IMDB
- Top rated movie #33 | 9 wins
It's quite surprising that some old masterpieces fall easily into the oblivion. Harakiri (Seppuku) is a good example. Quite simply this is one of the best Japanese movies I've ever seen.

Everything is this movie is exceptional: the cinematography is top notch, the acting is very good, the direction is almost perfect.

Tragedy, revenge, ethics, political contents…this movie has all of these elements wrapped in an exceptional 16th century samurai environment.

The only defects I could see in this movie is that someone may feel it is slightly slow (as actually there are very few action scenes…this is not a "chambara" movie!) and the fact that it is not dubbed (at least in the Italian edition)…so you lose some of the details while reading the subtitles….that is, unless you understand Japanese.

If you like black & white Japanese movies this is definitely a must see. GREAT.
(Enlargeable)