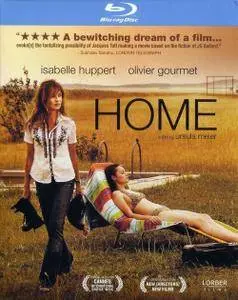 Home (2008)
BDRip 720p | MKV | 1280x696 | x264 @ 4898 Kbps | 97 min | 4,37 Gb
Audio: Français DTS 5.1 @ 1509 Kbps | Subs: English (embedded in MKV)
Genre: Drama
Director:
Ursula Meier
Writers:
Ursula Meier (scenario), Antoine Jaccoud (scenario)
Stars:
Isabelle Huppert, Olivier Gourmet, Adélaïde Leroux
A family refuses to leave their country home to make way for the construction of a new road. Gradually cut off and disconnected from the world, they end up shutting themselves in.
Described by director Ursula Meier as "a road movie in reverse," Home is an assured and unsettling comedy. Marthe (Isabelle Huppert) and Michel (Olivier Gourmet) lead a happily isolated life with their kids on the edge of an abandoned highway. Relishing their distance from the rest of society, the clan stage makeshift hockey matches, sunbathe in deckchairs near the road, and hold au fresco picnics in their extended backyard. With two veterans from Michael Haneke's squirm-o-ramas playing the parents, however, it's only a matter of time for the secluded idyll to be disrupted, contaminated, and dismantled. When the highway is reopened, the onslaught of cars zipping noisily by their house suggests a swarm of giant insects invading a garden. The family fabric crumbles: Marthe can't fall asleep anymore, teenage daughter Marion (Madeleine Budd) becomes obsessed with the toxins released by the machines, and young Julien (Kacey Mottet Klein) goes from seeing adventure in the changes to succumbing to apathy.
(click to enlarge)

More in My Blog