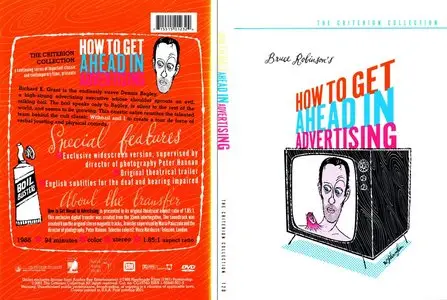 How to Get Ahead in Advertising (1989)
DVD5 | ISO | NTSC 4:3 | Cover | 01:35:59 | 3,75 Gb
Audio: English AC3 2.0 @ 192 Kbps | Subtitles: English SDH
Genre: Comedy, Fantasy | The Criterion Collection #120
Director:
Bruce Robinson
Stars:
Richard E. Grant, Rachel Ward, Richard Wilson
Richard E. Grant is the endlessly suave Dennis Bagley, a high-strung advertising executive whose shoulder sprouts an evil, talking boil. The boil speaks only to Bagley, is silent to the rest of the world, and seems to be growing. This caustic satire reunites the talented team behind the cult classic Withnail and I to create a tour de force of verbal jousting and physical comedy.
George Harrison's Handmade Films had unusually good luck with Bruce Robinson's debut film, the autobiographical Withnail & I (1987). So it wasn't very surprising when Harrison and company said yes to Robinson's How to Get Ahead in Advertising (1989), especially since it would also feature Withnail star Richard E. Grant. What they got was one of the strangest, most outrageous, most bitter, irreverent and bitingly funny satires the movies ever offered. It was slicker than Withnail and more ambitious, and if it didn't duplicate the earlier film's cult success, it was sufficient to land Robinson a Hollywood offer. (That he would have been better advised to stay in England is another story.)




Though How to Get Ahead in Advertising is clearly inspired in part by Michael Winner's I'll Never Forget What's'name (1967), it's very much its own film. It's the tale of Dennis Dimbleby Bagley (Grant), a sharp advertising man who so works himself up over an acne cream that he develops a boil on his neck. But is it a boil? It starts taking on human features and talks (at least according to Bagley and what we see and hear). And it eventually becomes obvious that it looks just like Bagley and starts taking over his life. The boil is rude, foul-mouthed and cynical—everything that Bagley hates about himself. The dilemma becomes acute when the suddenly head-sized boil is surgically removed—and the wrong head is left, turning Bagley into a monstrous parody of himself. The film never quite tips its hand as to how much is fantasy and how much is really happening, which adds to its wit. Constantly surprising, very funny and unrelentingly bleak, Advertising is also beautifully creative. Robinson's use on the soundtrack of Saint-Saëns' "Organ" Symphony and the "Jupiter" section of Gustav Holst's The Planets is stunning—with a very strange rendition of Pete Townshend's "My Generation" not far behind. Really, one of the best film's of the 1980s.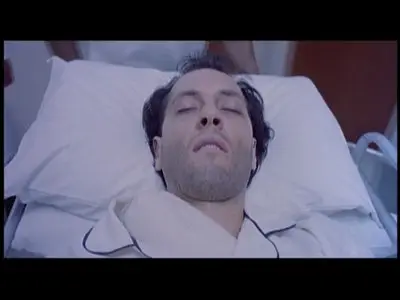 More satire than comedy, and aimed at a sophisticated audience that can appreciate its barbs at the business of "creating need," HOW TO GET AHEAD IN ADVERTISING is a movie of extremes, both in plot and characterizations.

Dennis Bagley (Richard E. Grant), a veteran advertising executive who has all the perks of success–an attractive wife (Rachel Ward), a country home, and an expensive car–undergoes a drastic change of heart when a creative block prevents him from coming up with an ad campaign for pimple cream. Quitting his job and embarking on an "anti-advertising" campaign, Dennis is soon plagued by a huge boil on the side of his neck that takes on a human visage and becomes Dennis's alter ego. Eventually, the boil, an unprincipled proponent of a "buyer beware" philosophy, even takes possession of Dennis's being.




In asking the audience to decide which is the real Dennis Bagley, writer-director Bruce Robinson is not only concerned with the moral implications of advertising but with those of capitalism in general. Clearly, he has stacked his deck, allowing Grant (who starred in Robinson's wonderful WITHNAIL AND I) to push his character to the outer limits. More subtlety or quiet introspection might have lent greater credibility to the role, though Grant and Robinson unquestionably have made their point.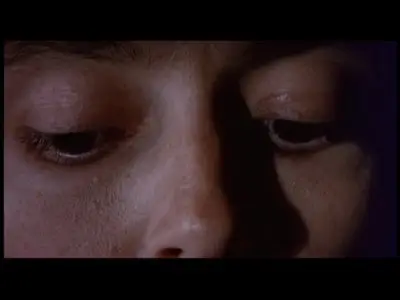 Disc Features:
- Exclusive widescreen version, supervised by director of photography Peter Hannan
- Original theatrical trailer
- English subtitles for the deaf and hearing impaired
Thanks to melsedir.
No More Mirrors, Please.
DC0B6494CB516469A428FAC44724DC4D *Crit120.1P.rar

67F09CC176DFFD496CB5052F7DA2BF4F *Crit120.part1.rar
C3FC36CEA6A25859F99B73A116F1544F *Crit120.part2.rar
65C21045FF2041B12667444CFDD8F8BE *Crit120.part3.rar
E522C1188EEC9C062463B067C7DDB086 *Crit120.part4.rar
BCB01D1722318ED32C7199ADFBE1336B *Crit120.part5.rar
376772371C33A15A29B89C067802C0D5 *Crit120.part6.rar
7AEBFAE80863299A8CAF01B9AE6DDBE2 *Crit120.part7.rar
B52FE77DB4EEE9DA3FD74D3B51AA711D *Crit120.part8.rar