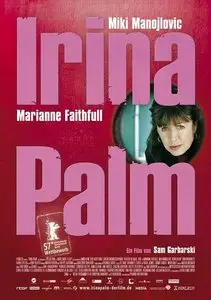 Irina Palm (2007) - Marianne Faithfull (Sam Garbarski)
DVDrip | English | 1h39 | 608 x 336 | PAL (25fps) | XviD | MP3 @ 128kbps | 715 MB
Subtitles: english, french, spanish, italian, swedish, brazilian-portuguese, hungarian, romanian, portuguese, czech, serbian, turkish
Genre: Drama
Marianne Faithfull gives a wonderfully matter-of-fact performance.
Belgian director Sam Garbarski assembles an international cast for this thought-provoking drama. Iconic singer and actress Marianne Faithfull stars as Maggie, a middle-aged woman whose desire to pay for her sick grandson's operation takes her down a path she never would have imagined. When she responds to an ad for a "hostess," Maggie soon realizes that she'll be working to fulfill men's physical desires and takes on the appropriate name "Irina Palm." Emir Kusturica favorite Miki Manojlovic costars in this film that played at the Berlin International Film Festival.
Cast: Marianne Faithfull, Miki Manojlovic, Kevin Bishop.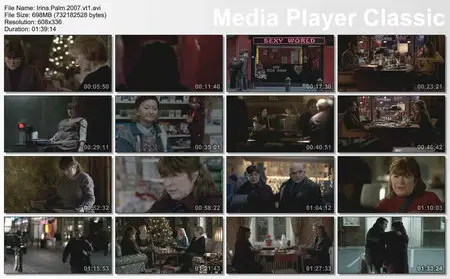 No password needed.
Join "rar" files with "7zip" (freeware), or "WinRAR".
Join "001" numbered files with "HJ-Split" (freeware).
Verify downloaded files with "Quick.SFV" (freeware).
ALL LINKS ARE WORKING FINE! Enjoy the movie.
If there is a problem, I am here to help. Send a private message (pm), and don't just leave a comment (a simple comment won't notify me, but a private message will).
Please follow the rules and don't leave mirrors with my postings.