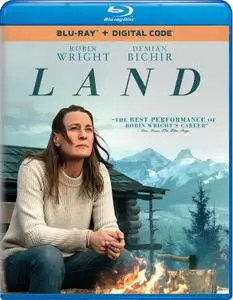 Land (2021)
BDRemux 1080p | MKV | 1920x1080 | x264 @ 34,9 Mbps | 88 min | 23,82 Gb
Audio: English DTS HD-MA 5.1 @ 3492 Kbps | Subs: English, Español, Français, Chinese (中文)
Genre: Drama
Director
: Robin Wright
Writers
: Jesse Chatham, Erin Dignam
Stars
: Robin Wright, Demián Bichir, Sarah Dawn Pledge
From acclaimed actress Robin Wright comes her directorial debut LAND, the poignant story of one woman's search for meaning in the vast and harsh American wilderness. Edee (Wright), in the aftermath of an unfathomable event, finds herself unable to stay connected to the world she once knew and in the face of that uncertainty, retreats to the magnificent, but unforgiving, wilds of the Rockies. After a local hunter (Demián Bichir) brings her back from the brink of death, she must find a way to live again.
I'm not entirely sure why this was so poorly received. I understand the bit of a cliche in the plot, finding yourself after a tragedy and rebuilding the world you live in to suit the lifestyle you need (See: Nomadland).

The reasons this movie worked are as follows.

The music was paired phenomenally with the visuals. The soundtrack was mostly beautifully orchestrated and delicate strings coupled with some ambient tracks that really worked with the mood of the introspective and developmental scenes.

The shots in this film are absolutely incredibly. Alberta was an amazing landscape to capture and being reminded of the beautiful, incredible and yet cruel land (hehe) that we often take for granted and certainly underestimate.

The plot fits neatly inside of 1 hr and 30 min, it does not get boring, and it completely encompasses the process of emotional healing through incredible visual story telling.

This movie is worth watching, and I recommend it to someone who is patient and wants something tender and mindfully directed to enjoy.
(click to enlarge)

More in My Blog