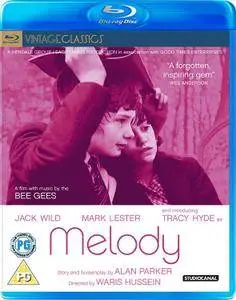 Melody (1971)
BDRip 720p | MKV | 1280x688 | x264 @ 6162 Kbps | 106 min | 5,47 Gb
Audio: English FLAC 2.0 @ 1167 Kbps | Subs: English (+SDH)
Genre: Comedy, Drama, Romance
Director
: Waris Hussein
Writer
: Alan Parker (original story and screenplay)
Stars
: Mark Lester, Tracy Hyde, Jack Wild
Two youngsters declare to their parents that they want to get married. Not sometime in the future but as soon as possible. The story is told from the children's point of view.
What to say about this gem that has not been said before?

That it was written by Alan Parker, before he was recognized as a world famous screenwriter/director? And that even then, it is a movie that has unjustly remained without being re-released.

No, that's just theory. It is the feelings evoked that matter.

I watched this movie once, as it played in an Argentinian TV channel at a time when there were only 4 TV channels. I probably watched it because of a recommendation from my father, who during my forming years, had gained my respect for introducing me to Spielberg in films such as Close Encounters and Raider of the Lost Ark. My guess is that I was probably about the same age of the main characters when I sat in front of the set.

I remember also the following day at school, as all the boys and girls that had watched it would whisper about it. Girls would probably whisper if it could happen to them, too… if those stupid boys would wise up one day. We boys… we were not willing to admit we had seen and liked a "love" story – a chick film. As such, we had to make fun of it. But deep down, all of us could tell… we could tell when we looked at each others' eyes that we were lying. That this movie had told perhaps our own story of first love and touched us in a way perhaps no one else had before, in a way we would not forget, we could not forget.

I am 33 now, I grew to work in the TV and film industry both in Argentina and abroad and have watched literally thousands of films since. It is a testament to this film that after watching it only once, I not only remember the film fondly, but that some scenes are still etched in my mind: The Frere Jacques scene as the two main characters talk about how they feel…. a scene that has no dialog, and it is just played with music and visual narration. The farcical view on authority and that funny ending, which could be called a teenage The Graduate.

I have since been looking in vain for a copy of this movie or for the chance to watch it again and again and again.
(click to enlarge)

More in My Blog