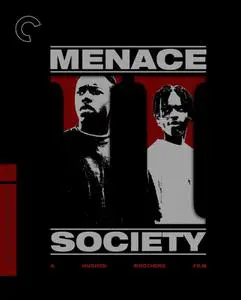 Menace II Society (1993) [The Criterion Collection, Spine #1105]
BDRip 720p | MKV | AVC, 1280x692, ~ 2.9 Mbps | 1hr 37mn | 2.53 GB
English: AC3, 2 ch, 448 kbps \ English (commentary x 2): AC3, 2 ch, 192 kbps
Subtitles: English
Genre: Crime, Drama, Thriller


Director:
Albert Hughes, Allen Hughes
Writer:
Allen Hughes (story), Albert Hughes (story), Tyger Williams (story)
Stars:
Tyrin Turner, Larenz Tate, June Kyoto Lu
Directors Albert and Allen Hughes and screenwriter Tyger Williams were barely into their twenties when they sent shock waves through American cinema and hip-hop culture with this fatalistic, unflinching vision of life and death on the streets of Watts, Los Angeles, in the 1990s. There, in the shadow of the riots of 1965 and 1992, young Caine (Tyrin Turner) is growing up under the influence of his ruthless, drug-dealing father (Samuel L. Jackson, in a chilling cameo) and his loose-cannon best friend, O-Dog (Larenz Tate), leading him into a spiral of violent crime from which he is not sure he wants to escape, despite the best efforts of his grandparents and the steadfast Ronnie (Jada Pinkett). Fusing grim realism with a propulsively stylish aesthetic honed through the Hughes brothers' work on rap videos, Menace II Society is a searing cautionary tale about the devastating human toll of hopelessness.
Extras:
- Original 2.0 surround soundtrack, presented in DTS-HD Master Audio
- Two audio commentaries from 1993 featuring directors Albert and Allen Hughes