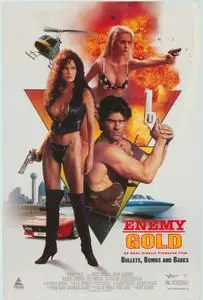 Enemy Gold (1993)
DVDRip | MKV | 720x480 | x264 @ 1704 Kbps | English AAC 2.0 @ 160 Kbps | 91 min | 1,20 Gb
Genre: Action, Crime
During a suicide mission in the American Civil War, two soldiers discover gold which will bury on the root of a big tree, somewhere deep in the woods. After many years and in the same woods, three Federal agents are on a mission to bust a drug-manufacturing operation, run by the ruthless drug kingpin, Santiago, and his men; however, they will be suspended. While on vacation, the agents will accidentally discover the same gold hidden under the same tree since the Civil War, and from that point on, trouble will ensue, as Santiago along with a corrupt agent and his personal assassin, Jewel Panther, will hunt them down, one by one. But can brute force only stop the agents' lethal expertise?