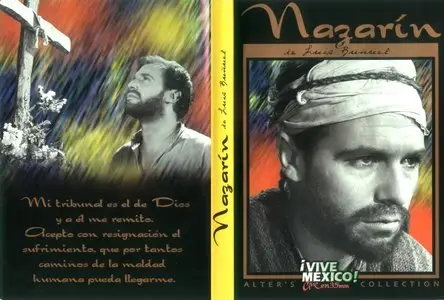 Nazarin (1959)
DVD5 | ISO | NTSC 4:3 | 01:39:48 | 3,88 Gb
Audio: Spanish AC3 2.0 @ 192 Kbps | Subs: English, Spanish
Genre: Drama
Director:
Luis Buñuel
Stars:
Marga López, Francisco Rabal, Rita Macedo
Acclaimed director Luis Buuel displays several of his trademark interests in this drama about a priest who leaves his order. The director's disdain for organized religion and the establishment, as well as his tendency to shock through visual imagery, are both apparent. Nazarin (Francisco Rabal) is the priest who leaves his order and decides to go on a pilgrimage. As he goes along subsisting on alms, he shelters a prostitute wanted by the police for murder. He is released from suspicion and she eventually catches up with him when she escapes imprisonment. Another woman joins the duo and soon the ex-priest is learning more about the human heart and suffering than when he wore robes. As for the shocking scenes, suffice to say the ravages of a plague are also shown.
One of the least sardonic of all Buñuel's films. Father Nazarín, a non-denominational journeyman priest, wanders through the plagues, sins and poverty of the secular world, experiencing a number of episodes that echo incidents in the gospels…until he learns the momentous lesson that he can receive charity as well as give it. Buñuel never ridicules Nazarín's efforts to follow Christ's teachings, but instead stresses the priest's fundamental detachment, and observes how irrelevant most of his work is to the sinners he tangles with. To the extent that the open ending is optimistic, Nazarín is a true Buñuel hero.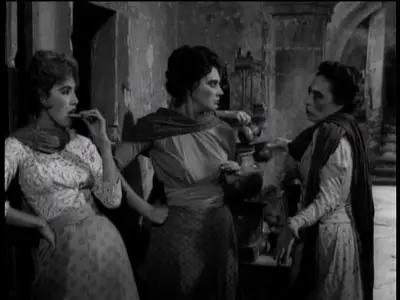 Nazarin won the Grand Prix International at the 1959 Cannes Film Festival. It's adapted by Luis Buñuel from the 1895 novel by the Spaniard Benito Perez Galdos. It's Buñuel's offbeat, tongue-in-cheek, satirical look at organized religion, in particular the Roman Catholic Church, and how even if one lives the perfect Christian life according to the gospels it's not aceptable by the defiled church or the cynical people. The film assumes the mantle of a parable, trying to imagine how Christ would be treated if he returned to the modern world unrecognized as an unfortunate healer and a true believer. This is another fine example of Buñuel's powerful films made during his exile in Mexico.




Set near the turn of the 20th-century Father Nazario (Francisco Rabal), an apostolic Roman Catholic (believing "everything belongs to the one who needs it most"), living in the Mexico of dictator Porfirio Diaz, literally tries to live the life of Christ but finds only humiliation and abuse from both the church and the people when he leaves the church residency to live in the village's hostel run by the beleaguered Mrs. Chanfa. It's a place frequented by beggars, thieves and prostitutes. His meager income comes from the alms he receives for saying mass. Often robbed, the priest's only remaining possessions are his priestly garb he wears and his Bible. When a prostitute named Andara (Rita Macedo) kills the prostitute in a catfight who stole her blouse buttons, she's profusely bleeding from knife wounds and seeks shelter from the police in Father Nazario's apartment even though she has heaped scorn on him in the past. Wanting to hide the smells of the perfume in the apartment from the searching police, after another prostitute snitched on her when not bribed for her silence, Andara burns down the hostel.




The priest reluctantly agrees to go on a pilgrimage with Andara and her troubled prettier sister Beatriz, who was rejected by the brutal construction worker boss Pinto and failed trying to hang herself in response. Beatriz sees this pilgrimage as a chance to run away from her problems. The two women view the barefooted priest as a saint and force themselves upon him as followers, as they go to different small rural towns asking for alms and trying to bring the word of God. In one town the priest miraculously cures Beatriz's dying little relative by his prayers and laying a hand on her. In another town he helps bury victims of the plague, but feels useless when told by a woman dying she only wants a worldly love with her Juan and not the spiritual one he has to offer.




The ridiculous pilgrimage by the defrocked priest (dressed as a peasant so as not to implicate the church in his actions) is never ridiculed for not offering any help to the overwhelmed poor or that his efforts as a loner only point out how ineffective his teachings are to the many sinners he confronts. Instead it leads to the saintly priest's downfall when he questions his uncompromising belief in God in such a cold world. The police arrest him for abetting the prostitute murderer and he's severely beaten by a savage fellow prisoner while in custody, but saved by another prisoner (Ignacio Lopez Tarso) who feels sorry for the defenseless man. His church out of embarrassment for his acts condemns him for not following its rules, but gets him removed from being jailed with the common prison population. It ends in an open-ended manner, with the priest supposedly coming to his senses that he can't save the world until he embraces humanity with all his love instead of looking only for Divine Justice.




The priest also learns the hard way that he must be willing to accept charity, if needed (an old woman vendor gives the scarred priest a pineapple as he's being led away by a guard, as the priest has become in her eyes someone to be pitied and not someone about to save the world). By losing his firm belief in God the priest has discovered his deeper humanity, and according to Buñuel is the better off for it. The priest is truly the kind of downtrodden idealistic humanistic hero Buñuel can relate to. According to the filmmaker, what the world needs today is a revolutionary with love in his heart and not another pious useless goody-goody priest thinking he's Christ.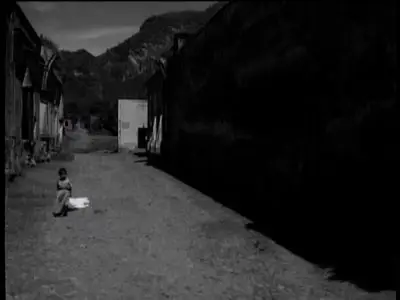 NAZARIN is a quietly devastating work of art, made with a brilliant economy of expression that bespeaks a filmmaker who's in absolute control of his medium and his message. For all of the comments about Bunuel's anti-clericalism, it should be noted that he is actually one of the very few filmmakers who has even considered questions of God and morality, let alone treated them in a thoughtful and intelligent way. Bunuel doesn't ridicule Nazario's blind faith, but saves his scorn for a hypocritical church hierarchy that condemns him as a "nonconformist rebel," as well as for a supposedly Christian society that would mock his spiritual purity. The film is a fairly faithful adaptation of an 1895 novel by Benito Perez Galdos (the author of TRISTANA as well), to which Bunuel added some typically dazzling surreal touches, such as the portrait of Jesus that Andara imagines to be laughing at her, or the way Beatriz blinks her eyes wildly and fantasizes her revenge on El Pinto, biting his lip until blood shoots out. The story is clearly meant to be a Christ-parable, showing what would really happen if He returned to earth; it also contains elements of Don Quixote, another tale of a Spanish madman, as well as Bunuel's later study of asceticism, SIMON OF THE DESERT (1965).




Bunuel has said, "In a world as badly made as this, the only path to take is that of rebellion," and NAZARIN is about the impossibility of living a totally pure and good life in a corrupt world. Nazario begins as a well-meaning and devout man of God who only wants to practice the teachings of the Bible, but his efforts always backfire and he's constantly defeated by a world he cannot understand, a world filled with sex, violence, and casual cruelty. Even he is frightened by the display of hysteria and ignorant superstition of Beatriz's sister after he "cures" her sick child, and when he's beaten in jail, he starts to lose his faith and states that for the first time he can't distinguish between contempt and forgiveness. Noting that they're both in jail and about to be executed, the church thief who saves Nazario asks, "What good is your life? You're on the good side, I'm on the bad side. We're both totally useless." By the final scene, when he's given a piece of fruit by the old lady and hesitates before accepting it, Nazario has gone from being a noble holy man who's above such worldy concerns as food, to being reduced to a simple human being who is treated with pity. As the writer Octavio Paz wrote, NAZARIN "both reveals the human condition and shows us a way to surpass it. Nazario has lost God, but he has found love and fraternity."

Special Features: None
All Thanks goes to nickk9.
No More Mirrors, Please.
F89B607E3D9B594753804A5A5679FE01 *Nasarn.avaxhome.ru.part1.rar
A469A460745B312BEEAC853319455417 *Nasarn.avaxhome.ru.part2.rar
7633019654C653AE9B8D694D7ED1A4C3 *Nasarn.avaxhome.ru.part3.rar
91431111E50320492624643D839FFD88 *Nasarn.avaxhome.ru.part4.rar
C7EEB815BFA11B2D38005B8293AB9E0B *Nasarn.avaxhome.ru.part5.rar
92055F1AE141DC00580D7B4C17F77114 *Nasarn.avaxhome.ru.part6.rar
8FBEADDB0B39A93D7B3269AAD4562E51 *Nasarn.avaxhome.ru.part7.rar