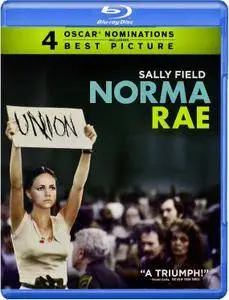 Norma Rae (1979)
BDRip 720p | MKV | 1280 x 720 | x264 @ 2048 Kbps | 1h 54mn | 1,77 Gb
Audio: English AC3 1.0 @ 160 Kbps | Subtitles: English (embedded)
Genre: Drama | Director: Martin Ritt
Like a lot of her family before her, Norma Rae works at the local textile mill, where the pay is hardly commensurate with the long hours and lousy working conditions. But after hearing a rousing speech by labor activist Reuben, Norma is inspired to rally her fellow workers behind the cause of unionism. Her decision rankles her family, especially her fiancé, Sonny, and provokes no shortage of contempt from her employers.
IMDB
- Won 2 Oscars + Another 10 wins
This film is in no way a documentary, but the filming style and plot line lend to its feeling so. Sally Field's acting in this movie is impeccable. She becomes Norma Rae. We see her fear, her disgust, her anger at the mill's treatment of its employees, and the passion she has for what she believes in. Although the best known scene from the movie is her standing at the mill with the "Union" sign, I believe the most memorable scene is towards the end when she talks to her children, telling them what to expect. The movie tends to turn away from her children, but this scene focuses in on her relationship with them. Beau Bridges is great, and the character of the Union leader (can't remember his name) is terrific. The sexual tension between Norma Rae and he is palpable. I strongly recommend this film to any Sally Field fans, or anyone interested in social issue films.
(Enlargeable)