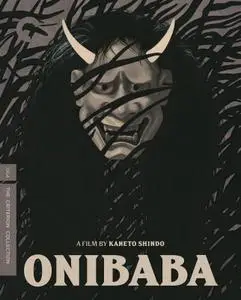 Onibaba (1964) [The Criterion Collection, Spine #226]
BDRip 720p | MKV | AVC, 1280x536, ~ 2.5 Mbps | 1hr 42mn | 2.11 GB
Japanese: AC3, 1 ch, 448 kbps \ Japanese (commentary): AC3, 1 ch, 192 kbps
Subtitles: English
Genre: Drama, Horror


Director:
Kaneto Shindô
Writer:
Kaneto Shindô
Stars:
Nobuko Otowa, Jitsuko Yoshimura, Kei Satô
Deep in the windswept marshes of war-torn medieval Japan, an impoverished older woman and her daughter-in-law murder lost samurai and sell their belongings for the most meager of sustenance. When a bedraggled neighbor returns from battle, lust, jealousy, and rage threaten to destroy the trio's tenuous existence, before an ominous, ill-gotten demon mask seals their horrifying fate. Driven by primal emotions, dark eroticism, a frenzied score by Hikaru Hayashi, and stunning images both lyrical and macabre, Kaneto Shindo's chilling folktale Onibaba conjures a nightmarish vision of humankind's deepest desires and impulses.
Extras:
- Audio commentary from 2001 featuring director Kaneto Shindo and actors Kei Sato and Jitsuko Yoshimura